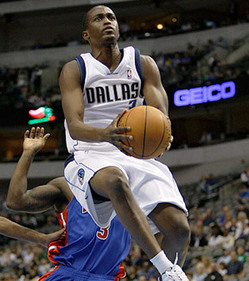 Rodrigue Beaubois is a little ball of energy. When he was on the court the energy of the Dallas Mavericks changed — they attacked with penetration. Their tempo increased. They broke down defenses. And it was all done with a little flair.
Then throughout the playoffs, Beaubois sat. And sat. And when he got his chance in game six against the Spurs he was he best thing the Mavericks had going… so they benched him for a long stretch of the fourth. And Dallas lost. Playing him more may not have changed the result of round one, but he would have changed the series dynamic for sure.
Mavericks' owner Mark Cuban wants to see that new dynamic next year, as he said in a radio interview on SportsRadio 1310 The Ticket (as transcribed by the Dallas Morning News).
Oh yeah (I think he can start next year), I expect him to be an All-Star if he works hard. If he works hard and improves at all this summer, which will give us a great indication of if Roddy is who we think he is, somebody who is really willing to work at Dirk's level to improve his game, if he does that this summer, and he improves his game like that, he definitely will be a starter. If he doesn't, than we would be disappointed.

Jason had spent a lot of time with Roddy, and as Jason got more aggressive going to the basket, so did Roddy. Roddy really showed his explosiveness, and ability to finish around the basket and his ability to shoot obviously, and so I think he's got the ability to be the best of both. A guy who can pass when he needs to be pass-first and someone else is hot, and a guy who can score when you need him to score. And that's really what our hope is for him going forward.

And he needs to get a little bit meaner. There are times when guys on the bench, and myself included, would say 'Look, when you get close to the basket, you have to finish with a dunk.' Not just to try to show off how athletic you are, but so next time they don't want to get posterized. Right? If you go in to dunk on somebody, they'll back off when they see you coming again because they don't want to give you an and-1 or they don't want to be on your poster. And so I think we've got to see Roddy get a little meaner I think, and if he really works hard, then he'll be the best of both worlds. Somebody who can pass when he needs to pass, and a guy who can score when he needs to score and that's really what we're hoping for.
Where Beaubois needs to work is on the defensive end of the floor. He has the tools to be a good defender but he was unimpressive when defending the pick-and-roll, he struggled some with man-to-man matchups. On offense, his skills led him to break out of the Mavericks' system more than any coach would like. Beaubois needs to learn to attack from within the system.
We've noted that it may be time for the Mavericks to shake up their roster. Maybe they can do that without making a huge trade?