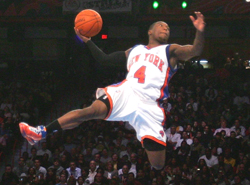 Nate Robinson came over to the Celtics with some hype bordering on the delusional — this was going to be the guy to change the Boston bench, provide that much-needed scoring punch, change the dynamics.
The reality is that Nate Robinson was Nate Robinson — he scores a lot some days but he shoots a lot. Plus best not to expect him to stay within the offensive system or play a lot of good defense.
By the end of the regular season — and now into the playoffs — Robinson is barely seeing the court.
He was benched for several games late in the regular season — but that turns out to be about the Benjamins, not his play. Henry Abbott did a good job finding this and had it at ESPN Boston.
A clause in Robinson's contract calls for him to make a $1 million bonus if he both played in at least 58 games and made the playoffs this season. Robinson's Celtics are in the postseason but he played in 56 games. As a result, the Celtics saved the $1 million they would have paid Robinson — equivalent to a quarter of his reported annual salary — and an additional $1 million they would have owed in luxury tax to the NBA (most of which would have been distributed to teams with payrolls below the luxury tax threshold).

Robinson, a 5-foot-9 guard and three-time slam dunk champion, had a difficult season but was on track to make the bonus until its final days.
Robinson had played 20 straight games, until he got benched for two out of three. His play was not such that it forced the Celtics hand, but he had been getting some run. However, given the chance the Celtics were all too happy to save the bucks.
It's becoming a mantra around this blog, and it will be through the free agent season — in the NBA, it is always about the money.