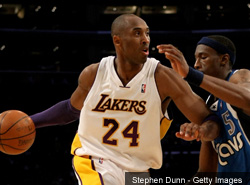 At one point in the first round, Kobe Bryant was showing all the leaping ability of Ron Artest. You could hardly tell them apart… well, except for the hair. And the build. And the fluidity of motion. Okay, so it wasn't that bad.
But it wasn't good either. Oklahoma City was blanketing him with very good defenders like Thabo Sefolosha and Kevin Durant — they deserve a lot of credit for making his life difficult. But Kobe was not his explosive self. He is the master of creating his own space then elevating for a jumper where he gets a good look. But the elevator was not going all the way to the top.
It is now. He has 61 points in two games against Utah, and that is with him largely deferring to the Lakers huge matchup advantage in the post.
Through the magic of MySynergySports I rewatched all of Kobe's shot attempts from the first two games, as well as games three and four of the first round, and this is a different Kobe. He has said as much, as reported in the Orange County Register.
Bryant said of the Lakers' two losses in Oklahoma City: "Played on one leg, basically."
It's just a matter of the explosion of the moves. Kobe in this series is moving with a real aggressiveness, a purpose, he pushes his way to the spot he wants on the floor. He is spinning and driving baseline with quick moves, something he just could not do last series.
A few times — like his second basket in game one or the late game-winning layup that same game — he comes hard off the pick to find no defense there and he has driven for a virtually uncontested layup. Blame the Jazz defense if you want (and you should) but Kobe did not do that last series because he lacked the speed to attack the same way.
Last series, Kobe slid around the picks, he glided. Given space he would take his jumpers (and he still hit them with regularity from the spots he likes, such as the elbow), but he could not create the space. He was slower.
But against the Jazz the Kobe that pushes and spins his way to those spots, then explodes for the jumper, is back. He has taken advantage when the Jazz got stuck with a smaller man on him (Deron Williams, for example). Kobe is backing guys down again. The elevation is back.
Kobe is still shooting a lot of jumpers — he is not 25-year-old Kobe with that raw athleticism that make him impossible to matchup. He picks his spots now. His game has matured.
But he is getting the shots he wants again. And that makes him a very, very dangerous player.
Just want the Jazz needed. Another nearly unstoppable problem.