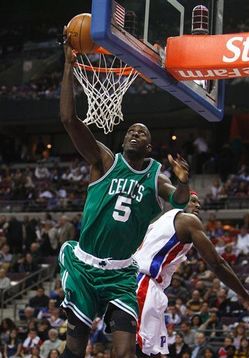 Nobody left on a playoff team is really healthy right now. Well, Kosta Koufos is, although that isn't really doing anybody any good.
But the Celtics had team heartbeat Kevin Garnett and the guy who has to defend Shaquille O'Neal (Kendrick Perkins) banged up, and that could be trouble.
Both are sore, but both will go in game three, according to Celtics.com.
The good news is that neither of the players suffered dramatic injuries that will keep them out of the lineup for an extended period of time. The bad news is that the injuries are bad enough to keep both Garnett and Perkins out of practice in the midst of a do-or-die playoff series…

Perkins' injury, a hyperextended right knee, happened at the team's morning shootaround (on Monday before Game 2). The circumstances surrounding his injury weren't what you would expect, as Perkins attributed the issue to a sudden lack of coordination.

Garnett's injury is actually game-related, as he suffered a strained right mid-food in the final minutes of Monday's win. He continued to play until Rivers took him out with 40.4 seconds remaining in the game, but his foot has also became more painful in the days since.
If the Celtics/Cavaliers series had been on an every-other-day schedule, Doc Rivers said KG would have missed Game 3. Thanks to the usually annoying, television-dictated playoff schedule, the Celtics are off until Friday. And this time, they'll happily take that.