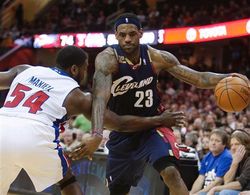 I don't know if you've heard this, but LeBron James can be a free agent this summer. No, really. He can be. The media is ignoring this little story, but it is true.
(Before you write something in the comments, read that paragraph again in a sarcastic voice.)
Since everyone else in America had weighed in on LeBron's free agency, NBA Commissioner David Stern was given the chance, as he was in town to hand out the MVP trophy to LeBron. Cantonrep.com had the quotes.
"The collective bargaining agreement, for which I can take credit or substantial blame," Stern said, is designed to "encourage teams to keep their own players."

Stern made sure it allowed for teams to "pay more and pay it for longer" to its own free agents. "And in my view, that's the way it should be. That was what was embedded in the collective bargaining to allow teams to stay together…"

"How long has he been here? … Seven years. You know that's the deal (that he could leave after that point). … I hate to take the other side because the way I grew up, I was trained to fight against it. Hopefully, he'll stay. That's the way the system's designed."
Keeping star players in one (maybe two) uniform is ideal for the league — you want fans to root for players they get to know. Some movement (particularly of role players — is good in that it help keeps things fresh. But the league and teams need continuity; they need stars that fans identify with, ones that stick around. It's good for business.
The thought of LeBron James always being a Cavalier (or Tim Duncan always a Spur or Kobe Bryant always a Laker) has appeal. So they set the CBA up that way.
Stern will probably get his wish in this case. He usually does.