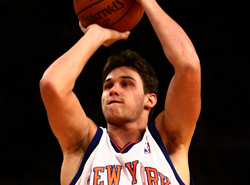 NBA players are dropping out of the their commitments to international competition like flies, and though the Americans will still be fielding a team of Superfriends from around the league in the FIBA World Championships, a number of factors should keep plenty of top-notch players out of international competition this summer.
Danilo Gallinari doesn't quite qualify as a top-notch player and he wouldn't have been playing in the World Championships anyway, but he is an NBA talent and pretty damn entertaining. He also is falling right in line with his NBA brethren, many of whom (LeBron James, Dwyane Wade, Carmelo Anthony, Dwight Howard, Manu Ginobili, etc.) are choosing to skip out on this summer's festivities for a variety of reasons.
For what it's worth, the excuses of those playing for Team USA seem far more flimsy than those playing for other countries, as Ginobili looks to preserve all he can from his aging body given the new extension he signed with the Spurs and Gallinari, according to La Gazzetta dello Sport (via Alan Hahn of Newsday), will take the summer off to continue strengthening his surgically-repaired back. LeBron James, on the other hand, is just really, really, really, really, really busy and wants to make Kazaam 2.
Not that there's anything wrong with that — I love Kazaam as much as the next guy with slightly masochistic movie-watching tendencies. It's just clear that even given Team USA's commitment to developing consistency in its program, it's not even remotely the same dynamic as the one that exists between foreign-born NBA players and their national teams.
As mentioned before, there is a slight difference in Gallinari's case, as Italy didn't even qualify for the 2010 FIBA World Championships. He would be competing to help his country earn a spot in the 2011 Eurobasket tournament, which is still a high-prestige event even if it's not quite on the level of the Championships. 
So it's a no-go for Gallo, even if he wishes it were otherwise. Hahn does note that Gallinari's two fellow countrymen in the NBA — Andrea Bargnani and Marco Belinelli — will represent l'Italia this summer.
This is definitely good news for the Knicks, who will need a fully healthy and refreshed Gallinari as a centerpiece of their 2010-2011 team. If New York is really going to overhaul the roster in free agency, guys like Gallinari, Wilson Chandler, and Toney Douglas are going to have to play very well next year for the Knicks to have a shot at taking a legitimate step forward. Acquiring some serious talent in free agency obviously helps, but without at least some depth in the rotation, you're looking at an early playoff out for the Knicks at best.