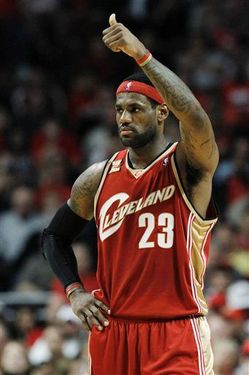 Part of the beauty of society/crumbling of our nation's moral fiber (take your pick) is that you can bet on just about anything. Just a few mouse clicks and you can bet anything from presidential elections to the Oscars.
Oh, and where LeBron James will suit up next year.
Bodog.com put up the numbers, and the smart money doesn't pay so well.
Cleveland Cavaliers         1/3
New York Knicks               3/1
New Jersey Nets              10/1
Dallas Mavericks              25/1
Miami Heat                       35/1
Chicago Bulls                   40/1
Los Angeles Clippers       40/1
Olympiakos S.F.P.            100/1
Any Other Team               18/1
For you who aren't great at the odds, that means if you think he is going to stay in Cleveland you have to risk $300 for every $100 you win. Not a great return on investment. If you think he is going to the Clippers you can bet $100 to win $4,000. You'd also be throwing $100 away, better to send that money to me so it can be put to good use. Like I nice Bordeaux.
And yes Bulls fans, you have about the same chances as the Clippers. Enjoy.