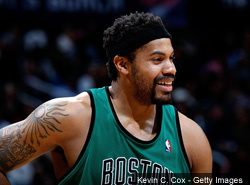 What? Rasheed Wallace got exposed by the Cleveland Cavaliers? Shocking, just shocking. Who could have seen that coming?
Well… everyone. The 2010 Sheed is a shell of the 2004 Sheed we all know and loved. But Doc Rivers was required to do the m for his poor play in game one, according to WEEI.
Wallace picked up three quick fouls in the first half and went 1-for-5 in 13 minutes of Game 1 against the Cavaliers. He was also a liability again on the defensive end where his rotations were slow and his help defense was lacking.

"He has to play better, bottom line," Doc Rivers said Sunday. "He has to play better defense. The offense will come but he has to be a better defender. We can't wait. He has to play better."
Look for Mr. Candice Parker, er, Sheldon Williams to get some minutes. Hey, they could use Parker too, if she's got some time.
Look at the bright side, Celtics fans: Just two more seasons after this of Sheed on your team. Oh, maybe that isn't a bright side. Sorry.