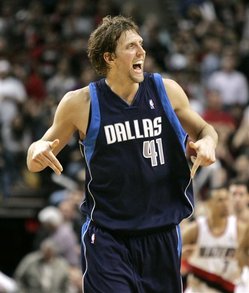 Dirk Nowitzki is a frustrated man. Frustrated at losing. Frustrated again at having a team that excels in the regular season then falls short early in the playoffs. Frustrated to keep answering the same questions about losing out year after year. You'd be frustrated if you were him too.
And you can't take what a man says at the peak of frustration too seriously. Meaning you can't take these quotes from him after the game, as reported at ESPNDallas
"I wanted to obviously have a long playoff run and go for my dream again," said Nowitzki, who would make $21.5 million next season if he doesn't opt out of his contract. "Now it's obviously too shocking and too disappointing. I haven't really thought about anything about my future yet. I guess I've got some time now to think about some stuff and think about my options.

"We'll just have to wait and see. Like I said, everything is too fresh now."
Some places around he Web, this is being spun as "Dirk Nowitzki may test the free agent waters and leave Dallas."
No, he won't. He loves Dallas, the organization, the owner, the thought of playing with one team his whole career and being the face of said team. Everything he said leading up to last night was that he was not going anywhere. Even if he opted out — and he's not all that likely to opt out of $21.5 million — it was about securing a long-term deal with Dallas.
When you're about to enter negotiations, you talk about options. Do that when you're frustrated and it comes off differently.
But can you really picture Nowitzki in any other color than Dallas blue next season? Neither can we.