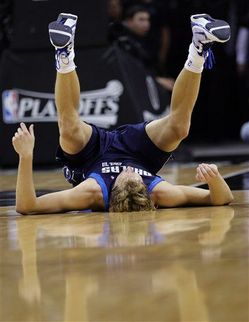 With the Dallas Mavericks down, the Denver Nuggets on the brink, the Phoenix Suns decidedly mortal, and the Utah Jazz dinged up, the San Antonio Spurs would like to respectfully enter their name for consideration as the non-LA team to beat in the West. They looked every bit of it in their resilient game (and series) against the Mavs, and though the Spurs surrendered a 22-point lead and let Dallas back into the game, San Antonio is clearly a team ready to roll through the playoffs.
Dallas deserves tremendous credit for clawing back into the final game of the series despite shooting blanks in the first quarter, and their trademarked ability to make a game out of what should have been a lopsided contest turned in a bit of an instant classic. It didn't come down to game-winners or overtime, but the Mavs turned things around in the second half and made this a hell of a basketball game. The series may not have gone to seven games, but it unfolded as advertised: both teams were highly competitive, evenly matched, and played each other spectacularly. San Antonio just executed a bit better, fought a little harder, and protected their home court with a bit more tenacity.
As much as Game 6 featured the usual suspects — Dirk Nowitzki finished with 33 points on 13-of-21 shooting, Manu Ginobili had 26, and Tim Duncan had a solid 17 and 10 — the most prominent storyline featured each team's up-and-coming guard: the Spurs' George Hill and the Mavs' Rodrigue Beaubois.
Hill was pegged as a potential difference-maker in the series, especially with Tony Parker a bit less reliable than usual. Hill started the series off slowly, scoring just seven points on 22.2% shooting in the first two games combined, but quickly became a vital source of scoring for the Spurs in Game 3 and beyond. He finished off his terrific series with 21 points and six rebounds in Game 6.
"Down the stretch we had our chances and you have to tip your hat to George Hill, he was the x-factor in the entire series," Nowitzki said. "You live with Parker, Ginobili, and Duncan making plays, but George used his freedom and made amazing plays. You have to give him credit, he is going to be a good player in this league."
Opposite Hill was the Mavs' dynamic rookie, Rodrigue Beaubois. Rick Carlisle turned to Beaubois in the second quarter when things looked darkest for the Mavs, and in his desperation Carlisle unearthed Dallas' buried treasure. Beaubois' ability to penetrate and score around the Spurs' defenders provided more than a spark, he was nearly a savior. All of a sudden the Mavs were within 13 at halftime despite only scoring eight points in the first quarter, and Rodrigue's play was a huge part of that.
His strong performance continued through the third quarter, as Beaubois' quickness clearly caused problems for the Spurs' perimeter defenders. Rodrigue's only roadblock — as has been the case throughout this series — was his own coach, as Rick Carlisle inexplicably left Beaubois on the bench for the first nine minutes of the fourth quarter. San Antonio smelled blood in the water as the Mavs failed to score on a few consecutive possessions, and what had been a neck-and-neck game was suddenly a decent lead for the Spurs.
"I was kind of happy because it took away another scorer that was playing well," George Hill said of Rick Carlisle's decision to sit Beaubois. "That's how it goes. People are going to go with people they're very comfortable with. I think Beaubois did a really great job of giving them a spark," Hill said. "I think that at the end of the day we made plays that we really needed to close it out."
Carlisle's rotations throughout the series could certainly qualify as curious, and some of his decisions have been more successful than others. In Game 3, Carlisle opted to sit Caron Butler for the entire second half and Shawn Marion for most of it, in favor of running a three-guard lineup including Jason Kidd, Jason Terry, and J.J. Barea. It worked…for a spell. But when the three guards tired out from extended burn in the second half and the zone defense broke down, the Spurs were able to pull out a victory. In Game 5, Carlisle gave Erick Dampier, who had started in every game in the series to that point, a DNP-CD. Brendan Haywood started and shined in his place, and the Mavs looked ready to compete until the very end.
Then in Game 6, Carlisle abandoned his "roll with what works" mantra to grant a fourth quarter stint to Jason Terry, who has a history of fourth quarter heroics but had struggled in this particular game (JET finished 1-for-7 and just two points). Although the Mavs still managed to keep the game relatively competitive, there's no question they could have used Beaubois' ability to drive in order to put added pressure on the Spurs' defense. Dirk Nowitzki was able to keep Dallas afloat, but even a superstar like Dirk has his limits.
In this case, Dirk could only score 33 points, while every other Maverick not named Beaubois or Caron Butler (who was fantastic in his career-high follow-up, and finished with 25 points on 50% shooting) struggled to score. Nowitzki, Butler, and Beaubois scored 74 of the Mavs' 87 points, which is unacceptable given the considerable talent on the Mavs' roster.
This isn't to deny any credit to the Spurs, who took the game by the throat whenever they were given the opportunity. Ginobili and Hill hit some huge shots to prevent the Mavs from riding their momentum to a win, and Tony Parker (10 points, eight assists, seven rebounds) was no slouch. The Spurs just played like the better team in this series, probably because they were. Seven seed or not, a healthy San Antonio team is a force to be reckoned with, and though Dallas fought hard and provided a worthy foil, this was no upset.