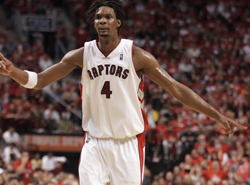 Chris Bosh must love to see the twitter fail whale. That or he has been able to buy part of the company and wanted to drive up the traffic numbers.
 
Those reasons make more sense than he actually wanted the advice of the public when he tweeted:
 
"Been wanting to ask. Where should I go next season and why?"
 
That unleashed a twitter firestorm – Bosh has 96,000 followers – of suggestions. But it also makes a clear suggestion that he should go somewhere and not stay in Toronto. So an hour later he tweeted:
 
Ok… Let me rephrase the question. Should I stay or should I go?
 
If he stays there will be trouble… if he goes it will be double. So you've got to let him know…
 
Fun little publicity stunt by Bosh, because we don't believe he really wanted the public's advice, do we? What's going to make his decision is money and fit – where can he be the man but with a good guard and a team that can win? What teams have the pieces to do a sign-and-trade with Toronto to make it happen?
 
Sorry, I'm sure your response was clever and thoughtful, but it just doesn't matter. It just doesn't matter. It just doesn't matter.