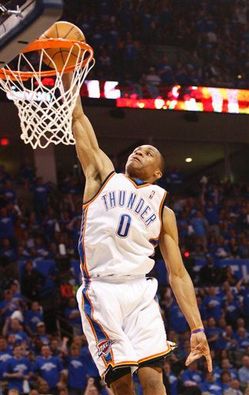 Sitting by their lockers after game five, Thunder players admitted it caught them off guard — Kobe Bryant locking down on Russell Westbrook. It threw the young Thunder out of sync, it made Westbrook hesitant.
It cost them the game, and now they trail the Lakers 3-2. If they are to pull off one of the greatest upsets in NBA playoff history, Westbrook cannot be hesitant in the final two games, starting Friday night back in the Ford Center.
After reviewing all of Westbrook's possessions, it became clear that Kobe was a part of the problem, but that the Lakers better overall play in slowing the game down played a big role as well. Westbrook is nearly unstoppable in transition, but in the half court he is more manageable. The Lakers took away a lot of those transition opportunities, and Westbrook did not convert the ones he did get at his normal rate. The Lakers length, and being back in transition, added to his off night.
For example, with 6:28 left in the third quarter Westbrook made a steal and was off in transition, but Kobe was with him. Kobe's length and strength running down the floor took away easy layup that Westbrook feeds on, so Westbrook tried to go under the basket then pass out to a trailer, but that pass was picked off for his own turnover. Westbrook just has to attack in that spot and try to draw the foul.
In the half court, it is sort of the same. Early on Westbrook passed, then his first shot came off a pick and roll, when Kobe went under the pick and he pulled up and took a jumper. Kobe is long enough to play off him some and still challenge those jumpers, and Westbrook was not hitting them.
And he settled for them too much — four of his last five shots of the game were threes. The Lakers will take that. While he hit two of four late in the game, Westbrook on the season is a 22 percent shooter from three. That is what the Lakers want him to do.
But even with Kobe on him, Westbrook can attack.
There were a couple of instances where, even with Kobe face up on him where Westbrook went strong to his left and got a decent shot — what bothered him was less Kobe and more the help from Bynum and Gasol (something the Lakers did much better in game five). Westbrook needs to go at him, needs to attack and create (if Bynum helps, make the pass to the man he vacated).
Getting a couple fouls on Kobe would also be huge.
Also, Kobe loves to play free safety and leave his man, even when he knows he shouldn't. Westbrook got a couple of good looks because Durant had the ball at the elbow, Kobe drifted to him and Westbrook slashed behind him to the rim. Those chances will be there again.
Kobe on Westbrook makes things harder on the young point guard, but not impossible. What he can't do is change his game, he can't settle for jumpers. There needs to be points in transition. He needs to attack.
If he does, he'll get a chance to do it again on Sunday in game seven.