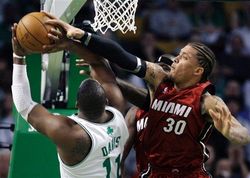 Michael Beasley sat the entire second half of game five against Boston. Udonis Haslem hurts his ankle, and Beasley — the number two overall pick — sat.
But don't read anything into that. I mean, why would you? Heat coach Erik Spoelstra thinks things are progressing just fine, he said in his post-season meeting with the press (as reported by the Sun Sentinel).
Spoelstra instead praised Beasley for his growth as a player between his first and second seasons.

"If we get the same improvement," Spoelstra said of the No. 2 overall pick in the 2008 NBA Draft, "I think you'll see a big jump."

The second-year coach also said he had no second thoughts about making Beasley the opening-night starter at power forward and utilizing veteran Udonis Haslem, the previous starter, as a reserve.

"That turned out to be one of the strengths of the season," he said of Haslem bolstering the second unit. "Michael certainly developed and he earned his minutes."
That, my friends, is spin. Spoelstra may not be as unhappy with Beasley as most Heat fans are, but he's not happy. You don't bench a player your happy with in the biggest game of the year.
With personnel moves — bringing in Chris Bosh/Amare Stoudemire/Carlos Boozer — a possibility that would make things deep at the four, the Heat may want to consider what Ira Winderman suggested: dumping Beasley for cap space.
He could evolve. Beasley could rise to his potential. He could mature. But the Heat have Dwyane Wade in his prime, now is not a time for waiting for "could." They need to make moves now.
But if Beasley is back next year, Spoelstra is fine with that. Good things could happen. Could.