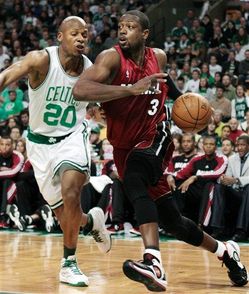 The long race of Dwyane Wade's free agency has just left the starter's gate, but Miami remains the heavy pre-race favorite.
Don't believe me? Just ask Wade himself, as our own Ira Winderman did for the South Florida Sun Sentinel. He also asked Wade's teammates, who said pretty much the same thing.
"My heart is here and anybody who knows me, I'm mostly heart more so than anything," Wade said outside the Miami Heat locker room Wednesday evening, a day after the Heat was knocked out of the NBA playoffs by the Boston Celtics. "My heart is in Miami. If everything works out, I will be in Miami."

"I see Dwyane in Miami," forward Udonis Haslem, Wade's closest friend on the team, said Wednesday, after taking his season-ending physical.

Then there is fellow Chicago product Quentin Richardson, who spent much of the season at Wade's side both on the court and off the court.

"My gut would tell me he's going to be a Miami Heat next year," he said. "If I was in his shoes, I would be back."
Other players said the same thing, Miami can offer Wade a longer and richer deal than any other team, about $30 million over the course of a six-year deal more. Nothing to sneeze at.
But Wade wants help. He has a ring and a taste for winning, and he wants more. While bringing in LeBron James seems a pipe dream, it seems feasible that a big contract (the Heat have the cap room to offer a max deal) might lure an Amare Stoudemire, Chris Bosh or Carlos Boozer to South Beach. All big men who could complement Wade's slashing style.
But the horses have just left the starting game, and this is a long — several months long — race.