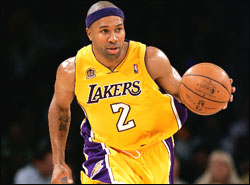 When an Oklahoma City radio station started reporting that the Lakers Derek Fisher had been involved in a fight at a Waffle House in Oklahoma City, pretty much everyone around the Lakers said, "Fisher? In a fight? We're not buying that."
Say what you will about Fisher's game — and Lakers fans have — nobody questions his character. Guy is a rock in the locker room. President of the Players Association. Four rings. Calm under pressure. And not a fighter. Oh, sure, the guy setting a pick on him may get the odd "inadvertent" elbow to the gut, but that's different than a fight in a restaurant.
Turns out, Fisher likes waffles (who doesn't?), was in a Waffle House in Oklahoma City a year ago and a fight broke out. But he was not involved, he told the Orange County Register.
These reports are false. I was not involved in an altercation and would have hoped that the media would check their sources and facts before reporting or insinuating that I was in any way violent.

"To be clear, over a year ago, I was a witness to an altercation at a Waffle House in Oklahoma City after a regular season game. The police were called after a fight broke out between two patrons. I reported what I had seen, was thanked by the police for my assistance and returned to my hotel.

"I was an innocent bystander and simply assisted police that evening."
Lakers fans just read that and started making jokes about him being an innocent bystander as Russell Westbrook blows past him. That's fair game, but the Fighting Fisher jokes are over.