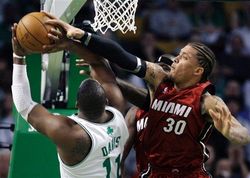 With their season on the line, with the Miami Heat needing their best players on the floor, Michael Beasley sat.
He did not start the second half of game five against the Celtics; he did not touch the court for the most crucial 24 minutes of the Heat's season. Udonis Haslem played the entire half, even after he sprained his ankle. You want to know what a coach really thinks? See who he plays in the clutch, when it really matters. Beasley sat.
Through five playoff games — and two whole seasons — Beasley's numbers have been too good to call him an outright bust. In this series he played 27 minutes a game, averaging 10 points and 6 rebounds. But he did it inefficiently, he disappeared for long stretches, he seemed disinterested on defense. He had a PER of 9.8 in the playoffs, the kind of number that suggests you should be benched.
The question now becomes, what are the Heat going to do with Beasley?
Our own Ira Winderman has suggested its time to go another direction. Beasley will make $4.9 million next year, with a team option on his rookie deal for the year after that. Maybe another team, another city, another coach could spark him. Maybe some team would take a flyer on that.
But the Heat appear done with the experiment. At least if you look at who plays when it matters.