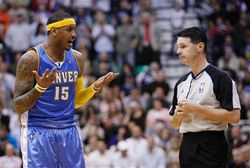 There's no question that Denver's inability to play defense is a big reason why they find themselves on the brink of elimination, but TrueHoop's Kevin Arnovitz has discovered something of an oddity in the Nuggets' deliberately inefficient offense:
The Denver Nuggets have a secret arsenal of nearly unstoppable plays. There's only one hitch headed into Game 5:
Acting head coach Adrian Dantley isn't sure he can get his team to run them.

That's because the Nuggets see themselves as a certain kind of
basketball team with an anti-system. Mike D'Antoni has
7-seconds-or-less. Phil Jackson has The Triangle. Jerry Sloan has The
Flex. And Dantley has inherited from George Karl what he's referred to
more than once as "random basketball."

What does "random basketball" mean? That's Dantley's description of
how the Nuggets perceive themselves offensively — a team that
flourishes by pounding you with dominant one-on-one play in the half
court and with breakneck transition buckets. Dantley isn't the only one
to make that general characterization. When asked about the Nuggets'
woeful assist total of 13 following Game 4, Chauncey Billups conceded,
"We aren't really a high-assist team. That's not how our offense is
made."

…
A stubborn devotion to "random basketball" is one of the reasons
Denver's offense has fallen off since Game 1, and there's something
obtuse about the Nuggets' unwillingness to construct coherent
possessions in the half court against Utah. When the Nuggets choose to
run deliberate sets, they're shredding the Jazz — particularly on the
pick-and-roll.
Arnovitz goes on to dissect the strengths of the Nuggets' 3-5 pick-and-roll, making particular note of the effectiveness of Carmely Anthony and Nene in such situations. The most troubling part of Arnovitz's excellent piece, though, ared the cries from acting head coach/substitute teacher Adrian Dantley, who claims that not only is he aware of how effective the team has been with the pick-and-roll, but has implored his players to run more of them.
Maybe this is where the Nuggets miss George Karl, who if nothing else was a superior coach in his ability to manage and connect with his players. Then again, Karl's commitment to "random basketball" could be equally zealous and misplaced, leaving Dantley as one of the few guys on the bench left shaking his head after Denver runs another isolation play.
This particular assembly of players in Denver is not an easy one to reach, particularly for a coach with little experience as a showrunner. Even Karl has struggled with the task at times, despite that aspect of coaching being considered his strength; George is first and foremost a manager of personnel and personalities, as opposed to a strict X-and-O type.
So while Dantley's struggle to reach this team may indeed say something about his prospects as a head coach, it's hard to read Arnovitz's account (supposing you take Dantley's comments at face value) and see Adrian as anything other than the guy in the room that gets it. He may not get the communication aspect of coaching just yet — at least not with this team — but the indications from the top are that Dantley is telling his players the right things, but something lost in translation to the hardwood.