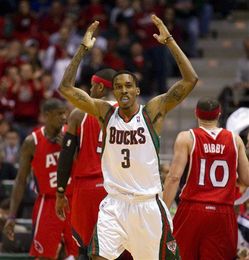 NBA playoff matchups are really a chess match. Every once in a while there is a queen with limitless powers on the board — your LeBron James, Dwyane Wade guys — but for the most part a coach's pieces have limits. Can only move in an L-shape, can only move diagonally, can't shoot from the outside, can't defend the pick-and-roll.
The coach's job — hide your players limitations while setting up situations to exploit your opponent's.
Four games in, Scott Skiles is the better chess player. He has exposed Mike Woodson's pieces. If Woodson can't answer, the superior talent of the Hawks is in trouble.
Atlanta's defense is really all about two big, long athletes defending the paint — Al Horford and Josh Smith. They come flying in from the weakside and send balls four rows deep. They embarrass guys. They cover up for the fact that the actual perimeter defenders for the Hawks — Mike Bibby and Jamal Crawford, in particular — are not good. At all.
But for the last couple games, Skiles has pick-and-rolled the Hawks into submission. The Bucks bring one of their bigs — say Kurt Thomas — out to set a screen for Salmons. Joe Johnson can't fight through it, so the Hawks almost always switch, and now Smith is on Salmons. Smith is long and pretty quick for a power forward, but he can't get in front of Salmons 20 feet from the basket, so Salmons attacks and the Hawks defense breaks down because one of the only good defenders they have has been beat. Salmons gets the shot he wants or a good pass to someone else wide open.
The Bucks have done basically the same thing with Brandon Jennings on Bibby and Crawford. It's why Jennings is playing like it's November again.
The Bucks have been draining their shots, which is part of it, but they have been getting shots they like. It might be time to have Smith and Horford stay back, take away the drive and make the Bucks hit jumpshots. On the road. Salmons can do that, Jennings can be streaky but it happens. However, it beats the parade of layups and floaters from those two Bucks.
It's a problem Atlanta needs to solve if they are serious about being serious contenders, because in the next round (if they make it) Orlando will do the same thing. And they are way better at it.
The Hawks come home to the friendly confines, where they play more aggressively. But with that has to come some smart plays, and a smart chess move by Woodson.