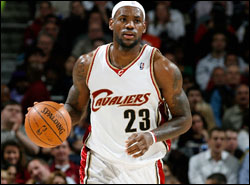 I'd like to say that the idea of LeBron James going to play for the Charlotte Bobcats next year is the silliest LeBron James rumor/theory we are going to hear in the next three months. It's not. I'm leaning toward a "he is leaving America to play for FC Barcelona" rumor to win out. I may even start that one myself.
But LeBron should join Michael Jordan in Charlotte is the first, and it comes from the New York Times, of all places (via TrueHoop). William C. Rhoden writes:
Why Charlotte? The answer is simple: Jordan.

Last year you said that you wanted to honor his legacy. You proposed that the N.B.A. retire his No. 23…

Forget the number, LeBron. The greatest tribute you could pay him — dollars notwithstanding — is joining forces with him next season and creating a dynasty in Charlotte. The two of you could forge a powerful alliance and achieve in an unprecedented way.
So the best way to separate yourself from Jordan is to step into his shadow, on his home turf in North Carolina? Interesting logic.
First off, realize that the Bobcats are over the salary cap for next year, and they have no way to get very far under it. The max contract — what the Knicks and Nets and Clippers and others — will offer is in the $16.5 million per year range (not formally set yet). The Cavaliers can offer an extension and raise off his current contract, meaning in the $18 million per year range (with larger raises than any other team can offer).
The Bobcats would only be able to offer the mid-level exception, probably in the mid $5 million per year range. So, to sign with the Bobcats, he would be leaving roughly $55 million to $65 million on the table over five years. That is a lot of scratch, no matter how much you are making. And LeBron is not going to make more in endorsements in Charlotte. He is a huge name, he will make about the same national endorsement money wherever he signs.
No doubt, the Bobcats roster with James would be a threat. But then so would Cleveland — they are a threat now. They have had the best record in the league two years running. That is his home childhood, and he would make tens of millions of more to stay and play there.
Forget it. Why am I bothering with logic? The silly season is underway. Time to just go with the flow and not fight it.