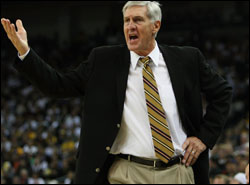 Chris Webber has become the weekly NBA guy on Fox Sport Radio's Petros and Money show. There is the potential for good stuff here because Matt "Money" Smith knows his NBA. He used to be part of the Lakers radio team (before they switched stations this season) and provided the all-to-rare smart basketball talk on the radio.
But it was the story Webber told, as transcribed by Dan On the Street, that stole the show this week.
"Man, one time I set a pick on (John) Stockton and I knocked Stockton to the ground and I gave him a shoulder. And I'm really cool with Stockton but I was trying to show the rest of the team like I'm going to get the technical, you guys. I'll be the bad guy, come on. Well, Stockton kind of laughed. I laughed. I looked at the bench and Sloan looked at me.

I said, 'You want some?' He was like, 'Damn right I want some.'

He started walking toward me. So, you know, it's a good thing there was a ref there because, hey, he's one of the toughest guys in the league. I don't want to fight that guy. So, I'll tell you, when your team is led by one of the toughest guys in the league, your team is going to be tough."
Sloan is a hard nosed guy who was a hard nosed player from back in the day when being an enforcer on the basketball court was a lot closer to today's meaning in hockey. Webber's right, I don't care how old he is, you don't want a piece of Sloan.