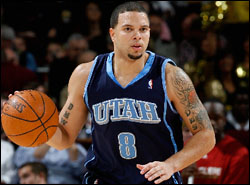 Deron Williams speaks the truth. Debatable truth, but truth. He did it at shootaround today, before his Jazz try to eliminate the Nuggets tonight. He told the Denver Post and other assembled media:
"I think I'm the best point guard in the league. … I thought I was the best point guard in the league for a while…"

"I'm always confident," he said. "And I always get excited about this time of year. … I have to be aggressive, I have to score, I have to get assists, I have to play defense. … I'm playing well, just trying to be aggressive with (Andrei) Kirilenko and Memo (Okur) out, I'm trying to pick up some scoring while getting other people involved."

Asked who the No. 2 point guard is, Williams said Chris Paul of the Hornets.

"But he probably thinks he's the best," Williams said. "And you can argue for Steve Nash, what he's doing at this age, is crazy."
Here's the test: You're starting a team tomorrow and you can choose any point guard you want, who you going to choose? Steve Nash is great but not young anymore and his body is just starting to betray him. Russell Westbrook is up and coming with a high ceiling, but he has no midrange game right now. Derrick Rose is also growing his game but is not there yet. Chauncey Billups has not looked great in this series, although tonight is the first time Denver is going to match Billups up on Williams. Before they went with their best defender — Aaron Afflalo — and Williams has owned him.
Chris Paul? There you can make a good argument, but he is coming off an injury so there is some risk. Personally, I prefer Williams' decision making and his physical strength to Paul. But the two our close.
Williams' comments may strike some as hubris, but you want your team leader to think he's that good (you don't want your role players to think they're that good). Is Williams the undisputed best? No, only because Paul is in the discussion. But for my team, I'd take Williams.