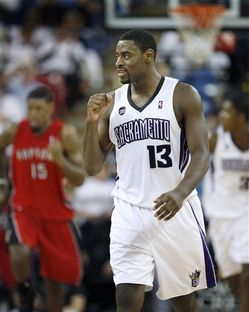 It would not be a surprise — after all he was the leading candidate for most of the year — but now it appears to be reality.
Tom Ziller at Sactown Royalty is reporting that Tyreke Evans will be named NBA Rookie of the Year.
We're good with this, as this blog has been home to a lot of Evans love. However, unlike a lot of NBA Awards this year (sixth man, MVP) this was actually a race. Stephen Curry made a lot of fans as a fun gunner in the wide-open Golden State offense, but where he really impressed was his ability to run the point. Brandon Jennings made a lot of believers in him — starting with the entire city of Atlanta right now.
But Evans, to use Kobe Bryant's description, is no rookie — he's a grown ass man.
Evans can get to the rim as well as anyone in the league already –he led the NBA in shots per game at the rim averaging 8.4 per contest. In a league of slashers he did it better than anyone. He averaged 20 points, 5 rebounds and 5 assists per game (the first guy since LeBron James to average that as a rookie).
More than all that, Evans has lifted up a team and a fanbase that was wallowing. Sacramento was in a bad place. There were no stars, there was no winning, plans for a new arena were (and are) frustrating. Evans play made him the one ray of hope. The one thing the Kings can build around. The guy who can return them to contender status.
After a draft that was much maligned, this turned out to be a very good and deep rookie class (with guys like Jennings, Serge Ibaka and DeJuan Blair making their presence felt in the playoffs). But Evans was the best and most consistent of the group, he is the guy who looks like he will be the best in his class five years from now.