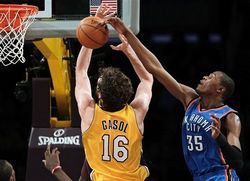 There's been a lot of focus about the Los Angeles Lakers inability to hit a jump shot in this series. With reason — the Lakers shot 26.1 percent (12 of 46) from beyond 10 feet in that game (thank you Hoopdata!). For the series, the Lakers are shooting an unimpressive 35 percent from beyond 10 feet from the basket.
But the Thunder are worse — 33.3 percent. They also are not a good jump shooting team, you just haven't noticed it because in the two games in Oklahoma City they got 61 shots at the rim. They are running, they are driving, they were getting the easy buckets that fuel their offense. In their game two loss, the Thunder had 16 shots at the rim, in the game three win it was 31.
All that leads us to the pivotal game five tonight at Staples Center — the team that makes the other team a bunch of jump shooters from the outside is going to win this game. That, or someone is going to have to start hitting those shots.
Don't bet on hitting the shots, because individuasl on both teams are struggling  — Jeff Green was to be somewhat respected from three in the regular season, but is at 23 percent in the playoffs. To borrow a line from the late, great Chick Hearn: Ron Artest couldn't throw a pea in the ocean (13 percent from three this series).
For the Thunder, they just have to do what they have been doing at home. They have packed the paint and made it hard to get the ball to the Laker big men Pau Gasol and Andrew Bynum. Their length has given LA some problems inside (but not that much, when they do shoot the percentage is pretty high). They have made the Lakers jumpshooters, and they blew them out.
But for the Lakers this is a team thing — they have to shut off the Oklahoma City fast break (make some shots, get back on defense). They have to shut off Russell Westbrook, who has been carving up the Lakers like roast beef at a Hilton Sunday brunch. That means better play from the Lakers guards guiding him to help, it means better rotations and help from the bigs. In today's no-touch-on-the-perimeter NBA, defending quick guards is a team effort.
While it's not set in stone, let's be honest — winner of this game wins the series. The winner of this game will be the team that executes better on defense. They both have done it during the regular season (both top 10 defenses in the league), but we'll see who can execute it under pressure. Before the series everyone assumed that would be the Lakers. Nobody smart assumes that now.