The press release came out late last night, just after media members had filed stories about the Hawks crumbling on the road again — a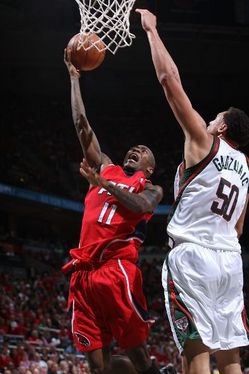 major announcement in Atlanta at 3 p.m. today (Tuesday). That can only mean one thing:
Jamal Crawford, you are about to be sixth man of the year.
This should be a nearly unanimous vote, Crawford ran away with this. (The fun part, as always, is to see what some media member who barely watches games voted for, ala the David Lee for defensive player of the year vote that made us all laugh and cringe.)
Crawford was a scoring machine off the bench for Atlanta, usually replacing Mike Bibby then changing the energy and flow of the game. He came in with a scorer's mentality, blowing some games wide open (and shooting them out of a few, too). He was a gunner who stayed in at the end of games and won the Hawks a few in the fourth quarter. That helped break his 11-season playoff drought this year.
 Crawford had his best season so far — he scored 18 points per game, not his highest, but it was his best per-minute scoring average of his career (his minutes were down eight per game from last year). What mattered is his shooting got better, hitting a career best 44.9 percent overall, a career best 38 percent from three. Break out the advanced stats and he looks even better — a career best 57.3 true shooting percentage, a career best PER of 18.4. Pretty much if you look at an offensive measure, he had a career best year.
But Crawford is winning this because you don't need advanced stats to see what Crawford did (many of the older voters are simple Cavemen Sportswriters, and they are frightened by your new technology and stats).
No surprise here, and deserved.