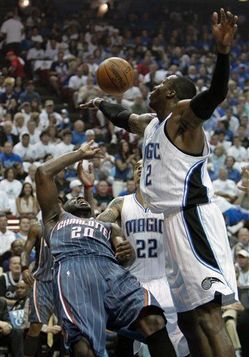 One would think Dwight Howard would be itching to play some international ball right about now — they let the game get physical there, far more pushing and grabbing. None of those silly fouls he keeps picking up in the playoffs. No more cardboard walls around Superman.
But apparently not. Howard may be the latest star to bow out of the FIBA World Championships, according to the Orlando Sentinel.
…there are indications he might forgo the World Championships in Turkey this summer in order to rest and possibly act in a movie and/or appear in a television reality show, among other things.

Howard has said publicly he would play for Team USA in the World Championships, but those close to Howard say he might be looking for a diplomatic way later to bypass playing in the tournament.
The NBA's big names may be balking, but a lot of the young stars of the NBA — Kevin Durant, O.J. Mayo and others — are excited to get their chance. They will be the core of the team in the future (maybe even by 2012), let's see what they can do.