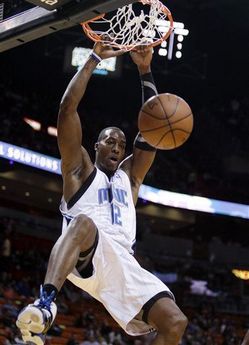 Dwight Howard has really stepped up his game in the playoffs. Well, one part of his game. He tends to foul a lot during the regular season (3.5 per game), but during the playoffs he has been on fire.
So much so that his teammates have nicknamed him "foul on you" Howard told the Associated Press after practice.
"That's my new nickname. They've been killing me all day calling me
'Foul on You,"' Howard said of his teammates after shootaround Monday
before their playoff game against Charlotte. "So I've accepted by new
role."
Howard has fouled out of one playoff game and picked up five fouls in the other two (a 5.3 per game average). That has limited his playing time to 27 minutes a game. It hasn't hurt the Magic who are up 3-0 in the series (thank you Jameer Nelson) so is it really a concern?
Well, Stan Van Gundy thinks it is, as he told the Orlando Sentinel. And if he does…
Stan Van Gundy ordered Dwight Howard to review videotape with him of some of the fouls he received on Saturday, and the Magic coach wants Howard to make adjustments…

Howard met with Van Gundy in the visitors' dressing room (after practice Sunday), where they spent about 15 minutes poring over the tape. When asked about the meeting, Howard said, "It's top secret — we can't tell you guys. It's a top-secret meeting. Coach told me not to say anything…"

"Everybody's trying to tell me what I should do. I just can't allow myself to get frustrated. Things are going to happen," Howard said. "My teammates say, 'Why you got to fight all the time?' You're playing basketball. You don't want anybody to think you're weak and soft out there, so sometimes you go to battle. I just have to try not to get into a wrestling match."
Howard walks a fine line. First, he is stronger than everyone else he goes up against. Second, he is expected to be the power presence on the offensive block for Orlando, he had to make some moves and risk picking up an offensive foul. He is also the primary — and often only — help defender on Orlando. All of that means he is going to pick up fouls by just playing basketball his way.
But he has to avoid the silly ones, the borderline ones. Some of those calls have gone against him this series, some were just mistakes by Howard. Those are the calls he needs to eliminate.
Against the overmatched Bobcats these foul issues are no big deal. In the next round against Atlanta, things change.