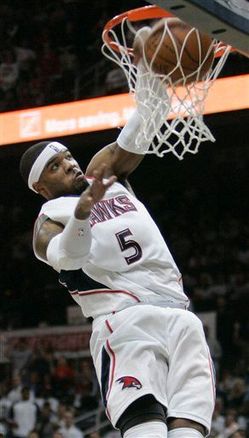 In game three, the Milwaukee Bucks gave the Atlanta Hawks what I've long called "the Steve Nash treatment." It worked, too.
The best way to beat the Suns is to make Steve Nash a scorer. It seems somewhat counterintuitive, because Nash can score, and well. But the theory is you'd rather have him score 30 and keep his assists down, not let his teammates get involved, because when everyone is involved is when the Suns are most dangerous. Phil Jackson has used this with success as Lakers coach.
In game three, the Bucks switched Luc Richard Mbah a Moute and his stifling defense off Joe Johnson and on to Josh Smith. Then they gave the Hawks the Nash treatment — let Johnson get what he gets, but don't let his teammates get involved.
It worked. Mbah a Moute didn't let Smith even get the ball in places he liked — almost all Smith's touches came off offensive rebounds (he had nine). Smith was taken totally out of the flow of the offense, and that effected his shot. Even when Mbah a Moute was out Smith was missing. The only time he was his aggressive self is when Carlos Defino had switched back onto him for a play. It didn't last.
The Bucks won. They made the move, now the Hawks have to counter.
First, after rewatching Smith's plays (thank you mysynergysports) he missed a lot of shots he normally makes. Chalk that up to Mbah a Moute bothering him and getting in his head, or just to an off night, it doesn't matter. Smith can't, and is not likely to, have another night like that. If he does, this series could be 2-2 heading back to the ATL.
The other thing the Hawks need to do is get points in transition, they had their lowest number of fast break points in the series in game three. But more than just traditional fast breaks, the Hawks need to just push the ball and get Smith and Horford and Crawford the ball before the defense is set. Get some easy buckets that get the team going.
For the Bucks, they need more of the same. That includes big nights from Brandon Jennings, John Salmons and Jerry Stackhouse. They need to get out early, and reinforce on Atlanta how poorly they play on the road.
Tonight is make or break for the Bucks. Let Atlanta do their thing, this will be over in five. But tie them up and an Atlanta team that tends to underachieve in the playoffs will have a lot to think about.