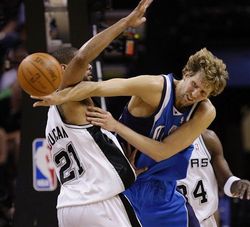 Well, that didn't work.
Jason Kidd as the veteran leader, Shawn Marion as the explosive guy, Caron Butler as the steady wingman, Brendan Haywood as a steadier Erick Dampier, all focused around Dirk Nowitzki. Looked good on paper.
That paper is about to be ousted in the first round by the well aged San Antonio Spurs. Despite all the big names, the Mavericks remain without a second guy who can create his own shot and hit it consistently. Terry can but he has off nights, while Butler has not seemed comfortable in the Dallas system. Marion can finish but needs someone to set him up. Kidd is not that guy who can take over games consistently anymore. It just doesn't add up, it just doesn't work.
According to Marc Stein, that may mean big changes to the roster in Dallas.
One source with knowledge of the Mavericks' thinking conceded that an early exit, furthermore, would only increase the likelihood that they will pursue another roster shakeup this summer, through sign-and-trade bids for marquee free agents.
Nowitzki is expected to opt out of the final year of his contract after this season, but he is not going anywhere. That is a business move — he wants a long-term deal under this Collective Bargaining Agreement rather than whatever is to come. He wants to stay in Dallas, owner Mark Cuban wants to keep him.
Everyone else… that's in play.
But that's very different than saying change will be easy. The Mavericks would have to do it through trades because they already have $84 million in salary on the books for next season. That is well over both the salary cap and the luxury tax thresholds.
Erick Dampier will enter the last year of a $13 million deal, maybe somebody would want him as an expiring contract an non-guaranteed contract that can be cut to free up cap space, but it's not likely a quality player would come back in return. Butler also has one year left at $10.5 million that maybe could be traded. Kidd, Marion and Jason Terry all have a couple years left.
Meaning shaking up this roster sounds good to a frustrated fan base, but it's not going to be all that easy to do. Not in a meaningful way for a couple seasons.
Rick Carlisle appears to be safe, however.
One source insisted over the weekend that a first-round exit would not threaten Carlisle's job, just two years into a four-year deal that pays more than $4 million annually and with one year still remaining on Avery Johnson's contract. Yet no one is quite sure how much Mavs owner Mark Cuban will be looking to change if his team can't at least rise out of a 3-1 deficit to drag this to seven games like the Spurs did in similar circumstances in 2006.
The thing is, with Mark Cuban as owner, what happens next is fairly unpredictable. He's certainly not afraid to spend, but finding a way to shake up this roster smartly will be harder.