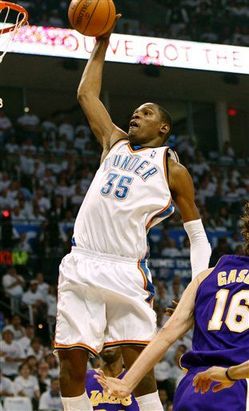 This is exactly the kind of game you expect when the top seed Oklahoma City team gets those young, eighth seed Lakers on their home court. The better team wins big, runs them out of the building from the first tip. Just an old fashioned, no mercy beatdown.
Wait, what? The Lakers were the top seed? Really, because they didn't look like it. The Thunder won 110-89 and the series now shifts back to LA tied 2-2. And with the Thunder having all the momentum.
It's not that the Lakers didn't have a plan — early in the game both Ron Artest and Kobe Bryant passed up wide-open threes to drive the paint. The Lakers worked very hard to get the ball inside to Pau Gasol and Andrew Bynum early — 13 of the first 16 Lakers shots came in the paint. They are bigger and they were going to exploit it.
But those were heavily contested shots. The Thunder are long and can afford to pack the paint when the Lakers are shooting just 18.2 percent from three (as they did this game). Remember the Lakers were 10 of 31 from three the game before. As it was for much of this season, there is no reason to fear the Lakers outside shooters. The Thunder are showing them no respect.
Kobe, meanwhile, looks human. He looks banged up. He tried to be the facilitator, not taking his first shot until nearly three minutes into the second quarter. He said afterward he was managing the game, trying to get others involved. Bottom line is that he had just 10 shots and 12 points on the night. Kobe Bryant did not — maybe could not — take over.
The Thunder also knew what they wanted to do to  — run. And they did. Off turnovers (although there weren't many of those), off missed shots (there were plenty of those) and even off made shots. Russell Westbrook led the way. Oklahoma City knows that in the open court, the Lakers are no match for their athleticism, so they ran every last chance they got.
Oklahoma City had 24 fast break points to the Lakers two. The Thunder controlled the pace and the Lakers couldn't do anything to stop it.
All that running led to fouls — the Thunder were 42 of 48 from the free throw line. The Lakers got there 28 times, but only hit 17 (60 percent).
Some Lakers fans will look at that free throw disparity talk about the refs, but the Thunder got to the line because they were the aggressor. They earned their trips to the line by attacking.
Can the Thunder run all over the Lakers again in game 5? Yes.  But look for the Lakers to do things that will slow the pace, like make a couple shots. They will have a plan. But executing that plan is something else entirely.