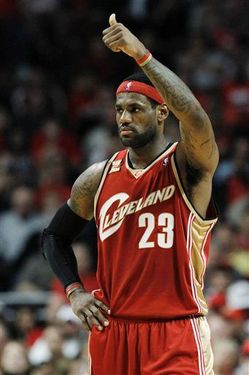 Joakim Noah has given no love to anybody or any place in this series. That includes LeBron James, who ranked as "pretty good" before the series.
What did Noah tell Brian Windhorst about LeBron after he dropped a 37 point, 12 rebound, 11 assist game on the Bulls?
"The best player in the world."
The Cavaliers made a statement — we are the team to beat, we are the favorites for the title, we have the best player walking the planet, and we have no use for you little Bulls. Cavs 121, Bulls 98. Next.
Well, technically Cleveland still has to win one more before next (Boston). But that seems a mere formality coming in game five. The Cavaliers didn't just beat the Bulls, they demoralized them. Cavs coach Mike Brown left LeBron in surprisingly deep into the fourth quarter for just that reason — the Bulls had cut the lead to less than 20, and the Cavaliers wanted to let them know, LeBron wanted to let them know, who was in charge. Just a little reminder for the days off until Tuesday.
The Cavaliers were up 10 at the half then blew this thing open in the fourth, and did it with defense. Chicago hit jut 8 of 25 in the quarter. The Bulls as a team shot just 37 percent. Kirk Hinrich was 3 of 13, Luol Deng 7 of 17, Brad Miller 2 of 8.
Noah was one of two Bulls who showed up and put up the first 20/20 in Chicago Bulls playoff history. (How is that true? It is, but how? Pippen, Jordan, Kukoc, none of them? I would have had my money on Will Purdue.) Derrick Rose put up 21 points as well, on a solid 9 of 20 night when the Cavs were intent on shutting him down.
But the Bulls were not the story — the Cavs have made their statement. Antawn Jamison looked like the second scoring option he was brought in to be, 24 on 9 of 16. Mo Williams 3 of 6 from three, 19 points. Heck, JJ Hickson got 10.
LeBron James has made his first big playoff statement. He made it with dunks and half-courters and defense. It was an emphatic one.
Can the Bulls win game 5? Sure, they could rain threes on the Cavs. They shot 33 percent today, and 14 and 22 percent in the other two. They hit 42 percent in the win.
Of course, after today they may have to shooting better than 50 percent. And hope James doesn't decide to make another statement.