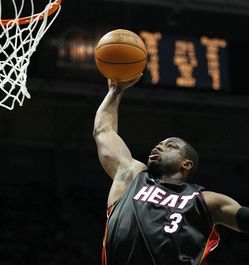 We all love some juicy gossip, and the "Where will LeBron play?" soap opera is the best one going right now. Followed closely by the "Where will Wade play?" one.
But now things have gotten ridiculous. Truly ludicrous. Take this comment (via AP) that is drawing headlines.
Speaking after practice in Miami on Saturday, one day before the Heat try to extend their season by forcing a Game 5 of their Eastern Conference first-round series against Boston, Wade acknowledged that he's got reason to think he and James would work alongside one another.

"We play well together," Wade said.
Duh.
That is news?
What a stunning revelation. The headlines can't be big enough — two of the best players in the game, two of the most unselfish, play well together.  We have pictures of them in the same uniform from Beijing we can run with that.
We need to start speculating about them playing together, reality be damned. As if LeBron's going to ditch a championship caliber team, and Wade is going to ditch South Beach so they can both go play with no talent around them in New York. They both are clamoring to be part of a rebuilding effort again, they both keep talking about it all the time. It is so obvious.
If you buy that dream, I have invented a pill where you can lose all the weight you want without exercising and by eating whatever you want. And it tastes just like sugar. I'm happy to sell it to you at a very fair price.
Hate to burst the bubble, but next October LeBron will put on a Cavaliers uniform and Wade a Heat uni. They are not going to move. Players are going to come to them.
Maybe I'm wrong. But it is far, far, far more likely I'm right than the chances they play together somewhere. Them together is about as realistic as Santa Claus actually coming to your house this Christmas. It's just the speculation of writers desperate for an angle, of columnists to lazy to come up with real insight into a series.
Can't we all just stay somewhere near the realm of reality?