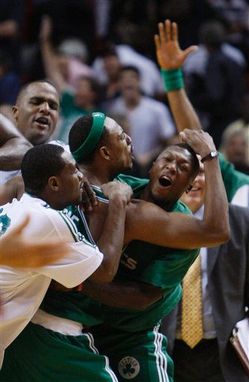 Dwyane Wade has carried the weight of the Miami Heat franchise — and carried underachieving teammates — through 82 games. He carried them through the first two games of their playoff series with the Celtics, averaging 27.5 points per game while nobody else averaged more than 10.
He did it again in game three, for more than 47 minutes, dragging his team toward victory. Then his body gave way. He had to be helped off the court with 11.7 seconds left due to leg cramps. He had given the last full measure of devotion to his team.
Sitting on the bench with his calf seizing up, Wade got to watch Paul Pierce show he has a little something left, a 21-foot pull-up jumper that gave Boston a 10-98 win and a 3-0 series lead.
This series is over folks. Nothing to see here, move along.
Oh, sure, they'll play one more on Sunday (maybe, maybe even a game 5) but this one is done. The Celtics are moving on to face the Cavaliers in the next round (what, you think Chicago's coming back in that series? Wow, you really are a dreamer).
This one was a pretty entertaining game, close throughout. The Heat were close with the Celtics, but if Miami had one flaw it was turnovers. The 16 they committed helped Boston to 21 fast break points, and giving the Celtics easy transition baskets is giving them life. Can't do that if you want to win.
Wade again was bordering on superhuman — 34 points on 14 of 26 shooting, 8 assists, a couple of steals. At halftime he probably sold beer and hot dogs at the concession stand. He carries that franchise.
He got a little help from Michael Beasley for a change – 16 points on 7 of 11 shooting and six rebounds. Too little, too late, but it was his best game of the series by far.
Pierce had 32 after the game winner, and every Celtics starter whose name does not rhyme with Gherkins scored in double digits.
This series is all but done. Celtics fans, start thinking of ways to stop LeBron (and good luck with that). Heat fans, start dreaming of July 1. Tune in and watch game four if you must, but this battle has decided the war.