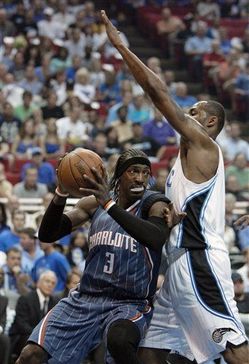 8 teams play today, 4 in Game 3'ss, and 4 in Game 4's. But for the underdog in each of these contests, this will be their last stand in the hopes of a competitive series. If these teams want to force a Game 7, forget about the elimination game, whenever it comes. Today is their last stand. Here's a look at what they need to do if they don't want to wind up like Custer.
Charlotte (hosting Orlando): The Bobcats have done everything to make this a competitive series, and still the Magic have held them at arm's length. Playoff basketball returns to Charlotte for the first time in a long time today and there's no way to anticipate what kind of crowd will be on hand for the Bobcats' playoff debut. They need an emotional crowd, because this team has to surge behind it, play with intensity, and capture every loose ball.
 The Magic are in high gear right now, and burying the Cats at home would make a sweep very likely. As feisty as the Cats have been all season, they have also been known to mail in their fair share, as veterans are wont to do. Going down 3-0 would put the Cats in a hole they would probably be unmotivated to climb out of.
The key is going to be Raymond Felton. Felton was considered a wash against Jameer Nelson before the series started, and now it looks like a complete mismatch. Nelson has been efficient from three, proficient at point, and devastating on the drive. Felton not only has to contain Nelson, but figure out how to get a few buckets of his own. From there, it's the luck of the three pointer behind a home crowd they need.
Portland (hosting Phoenix): And everything looked so good after Game 1, too. No series' momentum has swung like this one, with the Suns looking unstoppable in the last two games once they switched Grant Hill on Andre Miller and started defending like they gave a crap. Portland hasn't just seemed outmanned (and they are, with injuries to Brandon Roy, Greg Oden, Joel Przybilla, and Nicolas Batum), but outclassed. They haven't responded at all to a raucous home crowd, and have let the Suns dictate the tempo.
A loss tonight would mean three in a row, headed back to Phoenix for an elimination game, potentially coinciding with the announcement of an extension for Amar'e Stoudemire. That's a lot that can go wrong for the Blazers in that situation, so they need a win today to even the series and force at least two more. They have to adjust to Jason Richardson who went off for 42 points last game and has torched them from the perimeter in transition. They've got to slow the ball down, and while they need to stop the ball in transition when Nash is leading the charge, he's much deadlier when finding open three pointers. They've got to keep their heads on, or they might as well start packing up the Rose Garden.
Milwaukee (hosting Atlanta): Another potential sweep series. The Bucks haven't played badly. That's the killer. They've gotten Brandon Jennings to contribute consistently.They've had Ersan Ilyasova step up as a big man. And they've gotten good team play. And they just haven't come close to scratching the Hawks. Milwaukee is going to have to get this done dirty if they want to win, otherwise, this will be a sweep.
The key is going to be turning this game into one of those ugly, slow affairs. While the Hawks run at a slow pace, they have the talent advantage, so more possessions favor them. The Bucks need to turn it into a low possession game and try and connect from the arc, something they're not great at. John Salmons is going to need the game of his career. A game 4 with a chance to rest up before meeting Orlando is going to be a big carrot for the Hawks.
Thunder (hosting Lakers): Okay, OKC. You got the first playoff win in the first playoff game. And you were loud as hell. But now you have the Lakers' attention. And while your crowd will likely be close to as loud as they were Thursday night, you've got to imagine the Lakers will probably come out with a little fire after facing defeat. The Lakers know a Game 4 win effectively ends this series, with three closeout games in a tight series left, two at home.
If the Thunder can take this game and put LA back on their heels a bit, they've got a three game series in which anything can happen. They've played well in LA, falling short both times but remaining competitive, so they'd have a lot of hope to pull the miracle. But first thing's first, they've got to win today.
The key is going to be to follow the same formula as the last game. Attack inside, rely on Kevin Durant to have a hot night, have Russell Westbrook destroy whoever is "guarding" him, and swarm on defense. Most important is going to be the defense on Pau Gasol. Gasol has been killer in this series, with everything from off-ball movement leading to dunks, to that patented rainbow fader of his. Jeff Green can't handle him, neither can Nenad Krstic.
The Thunder have to get Andrew Bynum in foul trouble so they can put Serge Ibaka on Gasol. Another option that may seem crazy would be to go to Etan Thomas, who hasn't played much at all as the season wore on, to match Gasol's length and range. Thomas can impact the boards, and might be a better defensive matchup. Then again, it's Etan Thomas.
This game will say a lot about where both franchises are.