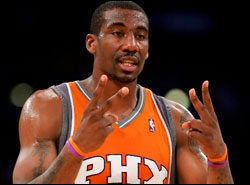 We've all been sizing up Amare Stoudemire for a new look. Maybe a Heat uniform for next season. Or a Bulls uni. Or maybe a Nets jersey.
What about a Suns white and orange jersey?
Sure, that's the team he's about to opt out from, surrendering $17.5 million for next season to get a long-term deal. That's the same team that has tried to trade him at the last couple of trading deadlines. That doesn't mean they can't kiss and make up.
According to FanHouse, the Suns have been talking and have offered Stoudemire an extension.
But according to sources with knowledge of the situation, Phoenix is now determined to keep the five-time All-Star and has offered a contract extension as recently as last week. While the terms of the offer are not known, a source close to the 27-year-old Stoudemire said of the proposal, "they're getting closer [financially] to where they should be."

No agreement is expected anytime soon, however. Stoudemire — who has made clear his opinion that he is worthy of a max contract or something close to it — has until June 30 to decide whether he'll exercise the player option for next season worth $17.6 million on his deal, agree to an extension or become a free agent.
From the All-Star Game through the end of the season, Stoudemire has been playing as well as anyone in the NBA (yes, including LeBron). The Trail Blazers have realized this and Amare now gets the instant double team — and he has proven a willing and good passer. He has been the complete package.
Phoenix has a lot to offer. Want to play alongside a great guard? It's not just Dwyane Wade or Derrick Rose, that Steve Nash guy is pretty good too. Warm winter weather, Phoenix has that. Solid team with potential? Suns. Fun style to play where Amare can use his gift in the open court: Suns.
It may or may not work out. Nothing is going to happen during the playoffs. Nothing is likely to happen until very close to the June 30 deadline for Stoudemire to make a decision. But right now, the both sides are talking, and that is a big step.