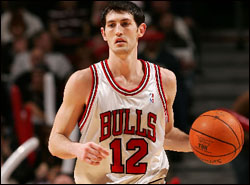 Personally, I see nothing wrong with this. I think it's an improvement to his name. But I could be biased here.
ESPNChicago has let us in on an inside joke in the Bulls media circle — coach Vinny Del Negro consistently gets guard Kirk Hinrich's name wrong.
Chicago Bulls coach Vinny Del Negro, long an admirer of the veteran guard, continually calls him "Kurt."

He has all season. It's a running joke among the media corps at this point, although Hinrich doesn't seem to mind. He knows Del Negro knows who he is and that the coach has his back when it seems like people may be turning on him. That has been evident all season, but it was especially clear over the past 48 hours.
Hinrich probably doesn't care what he's called after a 27-point performance on 9 of 12 shooting in the Bulls game three win.
In this series, where the Bulls are so overmatched along the front like (particularly against that LeBron guy) it is going to take big nights from Derrick Rose and "Kurt" to have a chance at winning another game.