Blasphemer! Blasphemer!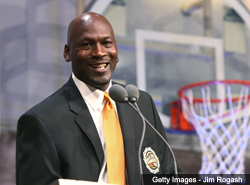 The current religion of the NBA is that Michael Jordan is the best player ever. He is THE GOAT. Not up for debate. He won six titles, scored at will, was the best defender ever, lifted the NBA to new heights, cured polio and invented the cell phone.
Who would dare question him? Apparently Magic coach Stan Van Gundy, talking with the Charlotte Observer (via SLAM).
"(Jordan's) certainly right there with anybody and he may be (the greatest). But the people who say it's obvious and everything else….. I think maybe don't know enough history," Van Gundy said.

"I think one of the really tough things is to compare players from generation to generation. The game has changed a great deal. He's the best player by far since I've been in the league. I came in the early 90's when he was in his prime. I think in the last 20, 25 years, he's the best.

"But to me, the two other guys I think of are Oscar Robertson and Wilt Chamberlain… the things they did."
Somebody is going to try to call SVG out on this, but they will look the fool.
Van Gundy makes a key point — because of television we have the achievements of Jordan seared into our brain. We have a visual record, one we can access at any time. On the other hand, we know that Oscar Robertson averaged a triple double one season, but we don't have it in our collective conscious in the same way. We know Chamberlain scored 100 points in a game, but all we have is a picture of him holding up a hand-written sign with 100 on it.
Funny thing is, in 20 years, people will feel the same way about LeBron (or maybe Kevin Durant). And how dare you bring up some guy named MJ to question the conventional wisdom.