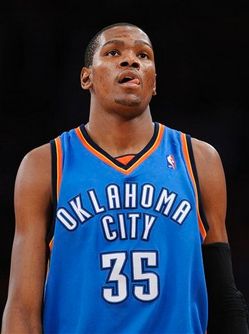 The Thunder are outmatched. Make no mistake about it. They're in over their heads, a young team of athletic defenders facing arguably the most talented juggernaut in the league. They don't have the depth inside to dominate the Lakers, though their block efforts in Game 2 helped. They don't have the star power to draw calls like the whisper fouls Kobe Bryant got off his and-ones, nor the power to avoid such calls like the one whistled on their star player when a 7 foot Spaniard, known for his acting chops was felled as if he was struck by a hammer. They are out-manned, out-starred, and though they have the Coach of the Year, likely outwitted by the 10-ring-fingered man across the scorer's table.
And none of that matters.
Because tonight, the Oklahoma City Thunder can announce to the world that they are a major league sports town, and that their star is as worthy as anyone's.
Kevin Durant shook off the stab-him-if-you-have-to defense of Ron Artest in Game 1 to finish with an incomplete, but still impressive performance in Game 2. While Artest was still able to body, beleaguer, and bother Durant quite a bit, the young man they call Durantula still got his, seeming to get better and more confident as the game went along, and came within a hair of knocking down the shot to win it, under the bright lights and taco-chanting masses of Staples.
All year the Thunder have impressed with how even-handed they've been. They don't get up or down; they seem to possess a wisdom far beyond their handful of years in the league. But in front of a crowd that's welcomed them, a small town community that they've made their home in and which the team has been very honest about genuinely loving, you can expect the emotions to run high. Oklahoma City fans are new to the sport, still finding their way, still learning about the salary cap and superstar calls and the rest. But the one thing I can tell you as Midwest native is that these people will be there, and they will be loud. There will be no getting to the arena late because of traffic, no gawking at starlets who couldn't tell a fast break from fast food, no excitement over the Jack-In-The-Box. They'll be out for blood. And the roars for their star, Kevin Durant, will be deafening.
Durant has an opportunity to make a statement tonight, to everyone who thought he was an inefficient scorer, that his offensive prowess was a detriment to the club, who doesn't think he's on the level with Bryant, LeBron, Wade, and the rest, despite the fact that he led the National Basketball Association in scoring this season. He can put himself onto another level, rise up, fire, and let the world know that the Thunder are not a part of the future, they are a part of the present, and they are to be feared.
Which isn't to say they'll win, of course. It would take a nearly flawless combination of the emotion, execution, level-headed communication on defense, and probably a stroke of good fortune for the Thunder to pull out a win tonight. The Lakers simply have too much length. Too much power, too much Kobe, as inefficient as he may be right now. But the Thunder have exposed cracks in Camelot's facade. Fisher can't stay in front of Westbrook. Durant is figuring out Artest like a Rubix cube, and Artest's due for an outburst. Serge I-BLOCK-A Ibaka has become a force inside, sending the Lakers back from whence they came. And Jeff Green won't be quieted for four games.
The Lakers know a jugular stab tonight ends the series. There will be a game four in function but not in spirit if they should quiet the "commoner" crowd  in OKC. But this Laker team also has a rare penchant for failing when things are going their way, for lacking the focus to close teams out, and to routinely get shoved around if the opponent shows enough fire.
There may be Thunder in the sky  tonight, but there will be fire in the stands.
Key Matchup: Ron Artest v. Kevin Durant
The Thunder did a much better job in Game Two of freeing up Durant, sending him off screens for catch and shoot opportunities and Durant simply out-willed Artest, though Artest always had an arm up. Going to the high elbow post could be especially good for Durant, keeping the ball away from Artest's swiping arms. For his part, Crazy Pills needs to maintain the same ball-denial-or-die-trying approach he's worked in this series, side fronting Durant on the wing, where he usually receives his passes. He needs to avoid getting caught up in a confrontation, because I'd bet one of the Thunder are going to level him on a screen tonight.
Key Matchup 2: Shannon Brown and Jordan Farmar v. Russell Westbrook and Eric Maynor
Why isn't Derek Fisher listed here? Because Derek Fisher has a better chance of chasing down a unicorn and riding it to "MyPullUpJumpersAreStillAGoodIdeaLand" than keeping Westbrook in front of him. But what the Lakers have done is let Westbrook get his while the team focuses on keeping Green and Durant semi-cool, then putting in the more athletic Farm and Brown for an up-tempo counter on Westbrook late. Eric Maynor could be a huge swing factor tonight, as his ability to get to the rim for floaters could mean more rest for Westbrook heading into crunch time and allow him to counter Phil Jackson's point guard rope-a-dope.