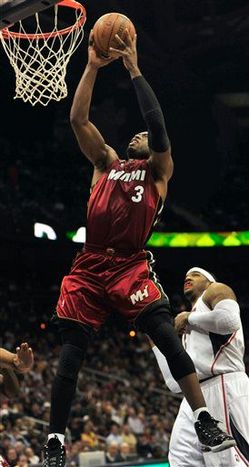 After the game two loss to the Celtics — you may remember that as the one-on-five game — Dwyane Wade was clearly frustrated. He wants some help. He wants to win and that is going to take more talent than currently sits on the Heat bench.
So if he's frustrated, and he is a free agent at the end of the season….
Not so fast says our own Ira Winderman (writing at the day job for the Florida Sun Sentinel).
Q: Does the outcome of this series have any influence on Wade's decision to stay or is it all about what Pat Riley does to improve this team that will determine his fate?  — Mickey.

A: Honestly, I think it's already essentially decided that he's staying. The new higher cap positions the Heat to give him just about everything he wants. And he likes living in South Florida, a lot. I do think, though, he might pressure management into a few decisions, including one about Michael Beasley's future.
If Wade is all about another ring, that may happen faster in Miami than anywhere else. That is where there is cap space needed to draw another star player is, that is where the lure of warm weather and South Beach are, that is where they is no state income tax.
But while LeBron James and Kobe Bryant have been more willing to use their leverage to move the organization one way or another, Wade has not. But it sounds like that is about to change.