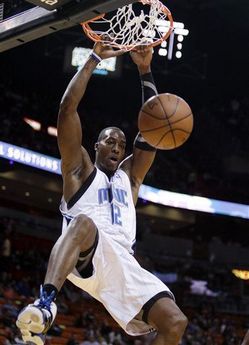 Two games into the playoffs and Dwight Howard has racked up 10 fouls, five each game. Which has meant some extra time on the bench and some caution as he tried not to get ejected from games.
Howard likes the money he makes, so he hasn't said a word. But his coach and teammates have gone all Phil Jackson trying to work the refs, both for this series and future ones. They got the same result — Stan Van Gundy and Matt Barnes each were fined $35,000 by the league today.
 FanHouse did a nice job of compiling some quotes.
"I just don't see the other great players in this league on the bench all the time with foul trouble, especially on marginal calls. I just don't," said Magic coach Stan Van Gundy. "You're sitting there on all of those, and you're going, 'Wow. Really that's a foul?".

"Dwight gets absolutely no respect, from the refs, from the league," said forward Matt Barnes. "It's crazy to see what they do to him every single play, and then he puts up his arms, and they call a foul. Hopefully, the refs will start letting Dwight be a little physical and stop calling such tick-tack fouls of him. You know, give him a chance to play."
Barnes also used his twitter account to say, "let Superman play."
Howard is so strong he gets fouled plays through it more than most. But he also uses that strength — sometimes doing things that could be called a foul — to get his position and a shot. A couple of the calls against him this series were borderline, but he gets away with things, too.
Howard picks up a lot of fouls anyway, he led the NBA with 287 personal fouls this season. But for the playoffs he really steps up his game — last season he averaged 3.4 fouls per game, but in the playoffs upped that to 4.4 per game. This season it was 3.5 per game in the regular season, but 5 each in his two games.
It's a pattern, Dwight. It may not be them, it may be you.