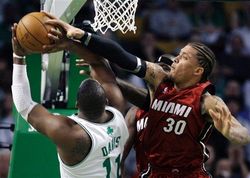 Amid the Heat's epic struggle in its first-round series against the Celtics, and amid Michael Beasley's no-show against both Kevin Garnett and Glen "Big Baby" Davis in the opening two games, arrives the debate of where Beasley's trade value stands.
Granted, two years is hardly is the best evaluation period for a 21-year-old power forward whose (lack-of) maturity level has been well-chronicled. But Dwyane Wade made it abundantly clear in his Tuesday comments at TD Garden that patience is wearing thin, that Beasley shouldn't be waiting for his opening.
"There's an opening for him every night," Wade said. "He's just got to walk inside the door."
Appreciate that not only is Wade shooting 61.1 percent from the floor despite standing as the Celtics' overwhelming focus, but no other Heat player is shooting better than Mario Chalmers' 41.7 percent in a series the league is poised to dump on NBA TV (seriously, for Game 5). By contrast, five Celtics are shooting at least 50 percent.
Beasley is at 9 of 22, with 19 total points.
So what would Michael fetch on the open market?
It doesn't matter.
It well could wind up being in the Heat's best interest to trade him for nothing.
Zippo. Zero. Nada.
In fact, that just might be the best trade the Heat could make.
With the new 2010-11 salary-cap projection of $56.1 million, it is possible for the Heat to position itself for three max-level free agents if it is able to get a team with cap space to bite on a package of Beasley and Daequan Cook for a future draft choice.
For a less-attractive market such as Sacramento and Minnesota, it essentially would be something for nothing, utilizing cap space without having to recruit, able to walk from Beasley's contract in a year if there is another offseason of distraction.
That's where this confluence of 2010 free agency and Beasley's uneven play has delivered the Heat.
His $5 million 2010-11 salary might best serve the Heat by simply disappearing, especially if the Heat can get a suitor to also sign off on acquiring Cook's $2.2 million. That, somewhat astonishingly, would leave the Heat with only about $3 million in committed 2010-11 salary, even less if Chalmers' option is not picked up.
For as much upside as many believe Beasley has, the question is not whether an additional $7 million in cap space would prove more beneficial, but whether it would be more to Wade's liking.
Both the Kings and 'Wolves could absorb Beasley's 2010-11 salary without having to send anything out. He would be a bridge to Ricky Rubio for the 'Wolves, someone to develop alongside Tyreke Evans for the Kings. For the Heat, there could be a valued draft pick in return.
It comes down to this for the Heat: Could it do more with $7 million-plus in cap space then it currently is doing with Beasley?
These days, the cash has a higher shooting percentage.
Ira Winderman writes regularly for NBCSports.com and covers the Heat and the NBA for the South Florida Sun-Sentinel.