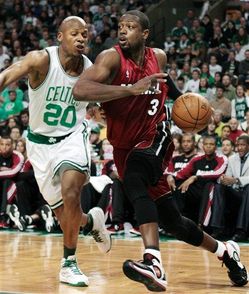 Dwyane Wade has said he knows what this team needs: another superstar to come there to play, and he is going to help recruit that player this summer.
It's going to take more than that to make this team good, something exposed by Tuesday night's blowout loss to a Kevin Garnettless Celtics squad. Wade had 29 points on 61 percent shooting, every other Heat starter combined had 24 points on 27 percent shooting. As you might imagine, Wade was frustrated, as Yahoo reports.
"One player can't win it," Wade said. "We need everyone who comes in to be positive and have a positive input. We've got a couple guys who are struggling right now. As we always do as a team we're going to stick together. That's the only reason we're here now, the only reason we have success."

"The first game I felt we gave it away," Wade said. "The second game, they took it. They wanted it more than us. They came out and took it. They were in control from the second quarter on. Give them credit."

"I'm tired of answering questions about [Michael Beasley] not doing it," Wade said. "He has to continue to play. It's going to click one day. Hopefully, it's Game 3. He has the ability to really make us a tough team to play. It's on Michael."
A player like Amare Stoudemire or Chris Bosh (rumored summer targets for the Heat) would certainly make a difference, would certainly help. But last night the Heat were beat by a Team (yes, with a capital "T"), an unselfish group of players where the sum is greater than the individual numbers. The Heat are more than one more All-Star from that point.