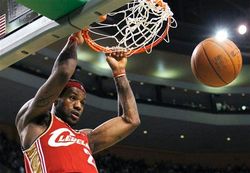 Look at the top six payrolls in the NBA this season (in order): Lakers, Mavericks, Celtics, Knicks, Cavaliers, Magic.
Your NBA champion is going to come out of that group (and it's not going to be the Knicks). For all the talk of parity, you have got to spend to win in this league.
But that makes it a tough business. Particularly if you are not in a massive media market like Los Angeles or New York. Say, like Cleveland.
Two league sources familiar with the Cavs' finances said the Cavs have a chance to make money this season if they advance to the Eastern Conference finals. That is despite a payroll that will exceed $100 million, including luxury taxes, ranking them fifth in the NBA.

This season, the Cavs are expected to set a team record for revenue, with ticket sales and suite sales up from last season. They also have one of the top five highest-paying local television deals in the NBA, a product of a huge offer from Fox Sports Ohio four years ago after that network lost the Indians' rights to SportsTime Ohio.

Most of that money flows in because of LeBron James, who is a major television and gate draw and is a bargain at his $16 million salary. But to surround James with talent in hopes of re-signing him this summer, the Cavs have made a series of investments, including a $25 million practice facility and more than $300 million in payroll over the past four seasons.
Brian Windhorst's article in the Cleveland Plain Dealer shows the challenge the owners face amongst themselves heading into the Collective Bargaining Agreement. David Stern said there would be some form of revenue sharing. But the Lakers last year spent like mad and still turned a healthy profit. How willing will big market owners be to surrender some of that profit for the good of the league? Baseball does well with massive payroll disparities, while the NFL thrives with extensive revenue sharing and a hard cap. The NBA owners need to decide where they want to be on that scale.
For Cleveland this season, it likely will work out. But they are the exception for mid-market teams right now. All thanks to LeBron James.