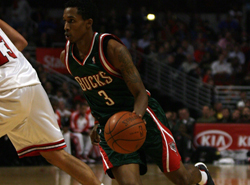 Saturday was the playoff debut of the Brandon Jennings show.
Sure, the Hawks won game one against the Bucks, pretty handily actually. But what you were talking about later, the only thing that kept Milwaukee even in it (and led them on a run to make it a little interesting) was Jennings. He had 34 points on 14 of 25 shooting. Jennings was draining threes and hitting his little lefty floaters in the lane. He kept getting good looks seeming whenever he wanted.
How do the Hawks contain the quick Rookie of the Year candidate?
Well, by doing a lot of the things they did last time, actually. Thanks to Synergy (the best new toy on the planet, seriously) I watched all of Jennings plays in the first game, and he was hitting the shots you want him to take.
Jennings does not have a great midrange game; according to Hoopdata he shot 29.9 percent from 10-15 feet, and 34 percent from 16 feet out to the three-point line (he shot a respectable 37 percent from three). But in the first half, those midrange shots were what was falling.
His early makes: 10-foot running left handed floater, 18-foot contested jumper, step-back three, uncontested layup in transition, step-back 18-footer over Al Horford, three pointer over Jeff Teague (who bit on a crossover). Those makes might bother you if Kobe Bryant were hitting them, but Jennings is not likely to repeat that feat.
Meanwhile, all game when he drove the lane and tried to get a layup in the halfcourt offense, he got it blocked. Josh Smith and Horford each got him a couple times. Take out the two transition layups and his only make came on a pretty scoop banker with just over a minute left in the game. The rest of the time they took away his easy shots. Jennings just hit the hard ones.
That happens in the NBA. But you play the percentages, the Hawks need to bet he can't do that again. When it was clear he was hot they still doubled off him (to cover Carlos Delfino in the post?) a once and lost him at the arc a couple times, they could contest his shot better. But he's not likely to be that hot again.
One thing the Hawks could do a better job of is forcing Jennings to drive to the right. Mike Bibby in particular let Jennings go to his much-preferred left any time he wanted (less Bibby on Jennings is just a good idea generally). He hits that left-handed floater consistently. Force him to do something he likes less to the right.
Also, be physical, as much as the refs allow. Joe Johnson could body him well and had some success with that in the last game.
Look for Jennings to have less of an impact this game, so long as the Hawks continue to take away his layups. And if he does, that could be trouble for the Bucks, they will need Salmons or someone to step up.