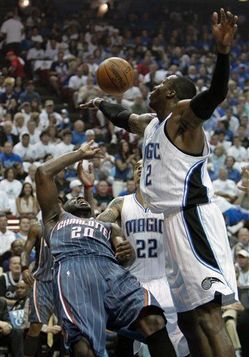 UPDATE 2:30 pm: It's official. And here are your top 5 vote getters:
Dwight Howard Orlando 110 first, total 576
Josh Smith Atlanta 3 first, total 136
Gerald Wallace Charlotte 1 first, total 113
LeBron James Cleveland 4 first, total 61
Rajon Rondo Boston 1 first, total 55
12:39 pm: The only interesting part of the announcement will be to find out who came in second in the voting.
Dwight Howard will be named the NBA Defensive Player of the Year in a press conference at 2 p.m. today. We've all put this together because: 1) The Magic announced the press conference for a "major NBA award"; 2) Everyone knows — and I mean everyone, rice farmers in rural Thailand know this — that Howard was going to win defensive player of the year again.
There was no race here, this was Secretariat at the Belmont.
He deserves it. Just look at what he did in game one against Charlotte. You can measure the 9 blocked shots in 28 minutes, what you can't measure is the shots he changed, the times that Raymond Felton started to drive then thought, "Maybe I'll just kick this one out." Howard is a beast on the boards as well — he grabbed 22 percent of the available rebounds this season when he was on the floor (second only to Marcus Camby). Think about that, he grabbed more than one in five available rebounds (and that total includes the ones he had no shot at, like threes that gave up long bounces off the rim, just think what the percentage is of ones he had a shot at).
Howard now has two of these. By the time he retires he will have a closet full.
This wasn't going to be even close in the vote, but other  guys you might have considered were Gerald Wallace, Josh Smith, Andrew Bogut, Anderson Varejao, Ron Artest and LeBron James. But none of these guys.