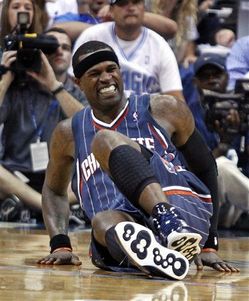 UPDATE 12:55 PM: The Bobcats have announced that the MRI revealed no structural damage to Jackson's knee. Just a bone bruise. He is now listed as day-to-day.
So Jackson was right, he probably is going to go Wednesday.
8: 56 am: Charlotte does not have a lot of great offensive options, which proved to be a real problem against Orlando and the current-and-soon-to-be-again Defensive Player of the Year in Dwight Howard.
Stephen Jackson is their best option, he was one of the few Bobcats willing to drive the ball into the teeth of he Orlando defense. He was the only one who seemed to drive in then still be able to get his shot off near Howard. However, he sat the final nine minutes of the last game — when it was still in reach — because coach Larry Brown did not want to risk further injury after he hyperextended his right knee.
Today Jackson will get an MRI to see just what is going on with that knee. But he told the Charlotte Observer he doesn't need one to know he is not going to miss any more of Charlotte's first trip to the playoffs.
Jackson said he's playing in Game 2 Wednesday.

"Definitely!" he said.
For the Bobcats to stand a chance in this series, he is going to have to play. The steady diet of mid-range jumpers from Charlotte's bigs will not win any games, let alone the series.