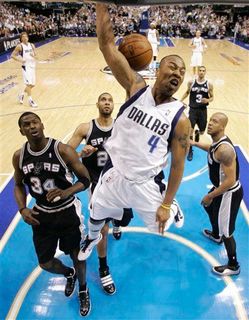 Dallas and San Antonio both played well but not perfectly. That said, the most important word in that sentence is both, as every terrific performance was countered and every sloppy play met with another by the opposition. It was a game of brilliant, beautiful, and flawed (but balanced in its flaws) basketball, and we shouldn't want it any other way.
The Mavs and Spurs played a tight game throughout, until the Mavs' late-game execution allowed them to pull away to a safe, decisive margin. Dallas overcame some decent shooting from San Antonio thanks to taking slightly better care of the ball, parading to the free throw line (in part due to favorable officiating), and limiting the Spurs' effectiveness in the pick-and-roll in the second half.
Front and center was Dirk Nowitzki, whose shooting was otherworldly. Nowitzki finished with 36 points on just 14 shots, but the most impressive part of Dirk's evening was his 85.7% shooting from the field. Nowitzki simply refused to miss, as he supplemented his usual array of turnarounds and fadeaways with a few lucky bank shots and a series of makes after contact. There are nights where Dirk is dialed in, and then there are nights like this. If anyone ever questions just how special an offensive talent that Nowitzki is, I would simply pull up this game on the non-existent video monitor, cue a highlight reel of improbable shot after improbable shot, and rest my case.
Dirk was hardly alone, though, as Gregg Popovich made perfectly clear. " There aren't many nights where Dirk is not special. He was special tonight, but he had a lot of help," Pop said. "A lot of other guys played really well; Butler killed us and both big guys were really good on the boads defensively. Jason [Kidd] was a gnat. He was a focused, driven individual, as usual. They had a lot of people well. They played sharper than we did."
Pop is right: Butler's 22 points, Kidd's 11 assists, and Dampier's 12 rebounds were all essential components of the Dallas' victory. In a game so close, the importance of every contribution is magnified, and the Mavericks not wearing #41 were still incredibly valuable elements of a winning cause.
Naturally though, the Spurs wouldn't have been competitive if not for superior performances from Tim Duncan (27 points, eight rebounds, six turnovers) and Manu Ginobili (26 points, six assists, four rebounds, five turnovers), the two stars whose success is absolutely fundamental to what San Antonio looks to accomplish. Their turnovers — some forced and some unforced — were a huge detriment to the tandem's efficiency. That combined with the Mavs' tightened defense on the screen-and-roll and Erick Dampier and Brendan Haywood's defense on Duncan in the post was just enough to surrender the momentum that Dallas needed to secure a victory.
Game one felt like a lifetime. Dirk was brilliant, Duncan persevered, Kidd's was masterful in the half-court, Tony Parker (18 points, four assists) was moderately effective coming off the bench, Jason Terry had a mostly empty night (five points, three assists), George Hill departed early (just 18 minutes), Rick Carlisle altered his rotation (no minutes for Eduardo Najera, just 18 minutes for Brendan Haywood), and Gregg Popovich engaged in what can only be called shenanigans (three straight possessions of Hack-a-Damp in the third quarter). These two teams are just getting started, and if game one was any indication of what the rest of the series will be like, we're in for a treat.