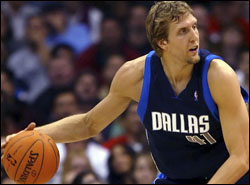 It's usually not a good idea to over-hype a series, because the practice can only backfire. A great playoff series will organically drum up interest, as NBA fans are drawn to good, competitive games. So those series' don't really need help on the front. If a series isn't so great? Well, then hot air, hot presses, and hot…virtual ink (?) goes to waste for absolutely no reason. In general, it's best to let the nature of each series speak for itself, and though analysis on the possible nature of a series is quite alright, promoting one series as a "can't-miss" matchup or the highlight of a particular round is very misguided.
Now that I have that disclaimer out of the way: this is a can't-miss matchup and the highlight of the first round.
The Mavs and the Spurs play each other so well so consistently that I refuse to believe this series will be anything but highly entertaining. The two franchises bring out the best in one another, and have done so ever since the Mavs rose from solid playoff team to serious contender based on the Spurs model. It's impossible to deny the formative influence that San Antonio has had on Dallas, and that influence is just one of many reasons why their rivalry is so compelling.
At the heart of this series are, of course, Tim Duncan and Dirk Nowitzki. Duncan is the best Spur even if he's no longer the most important, and despite the half-step he's lost this season, TD is still one of the league's most effective bigs. Nowitzki is a scoring machine, and while he's never lit a candle to Duncan defensively, his ability to anchor an offense from the high and low post is somehow immune to the Spurs' typically excellent defense.
All eyes in this series will be on Manu Ginobili, the man who not only kept the Spurs afloat down the stretch, but pushed them to new heights. It's Manu's return to prominence that has elevated the Spurs' play, and his effectiveness could essentially determine this series. Otherwise, Dallas and San Antonio have so much balance that predicting the winner is pointless.
San Antonio will likely have the defensive edge and Dallas the offensive one, but those two strengths could easily flip based on a big scoring performance from Tony Parker or strong defense from Shawn Marion. Dallas has more depth, but they're less consistent. San Antonio's two quick point guards — Parker and George Hill — are tough to gauge because the former only recently returned from injury and the latter tweaked an ankle in the final game of the regular season. Dallas' two centers have the size and strength to help limit Duncan, but how successful will they be?
There are so many questions left to be answered in this series, but the interesting thing is that the answers don't indicate a huge swing one way or another. Even if Manu Ginobili keeps performing at an incredible level, that doesn't mean San Antonio wins handily. Even if Shawn Marion and Caron Butler completely lock him down, that doesn't mean Dallas wins easily. There are so many small, minute advantages still in play, but the sheer quantity minimizes the effect of each variable.
We know so much about these teams and how they play each other, but they're so close that there's literally no way to tell how it's going to down tonight. That's what makes this series a must-watch, and the history between the teams, their division rivalry, and geographic proximity are just supplementary bonuses.