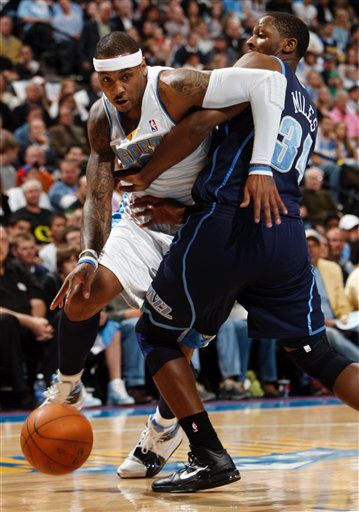 As much as anything else, the Jazz-Nuggets series is about old school vs. new school. Both Utah and Denver came into this series as one of the 10 best teams in the league in terms of offensive efficiency. The difference is that Utah relies on Jerry Sloan's old-school flex sets to get points, while Denver uses Carmelo Anthony, Chauncey Billups, a harem of other talented scorers, and a hearty dose of organized chaos to outscore their opponents.
On Saturday, both Utah and Denver were able to execute their offensive game-plans. Deron Williams was brilliant as always, finishing with 26 points and 11 assists in a losing effort. On the other side of the ball, Denver was unable to fight through the bevy of screens Sloan uses to free up his offensive threats. As a result of that, Carlos Boozer and Paul Milsap were able to hurt Denver all game by spotting up from mid-range or rolling all the way to the hoop, finishing with a combined 34 points on 29 field goal attempts. C.J. Miles and Mehmet Okur were both able to do some damage early, but both got injured over the course of the game. (Miles would later return, but Okur did not.) Kyle Korver was able to get some open looks off of penetration and pin-down screens, and knocked down most of those looks. 
In the third quarter, the Jazz tried to beat the Nuggets at their own game, and acquitted themselves fairly well. They pushed the tempo, let Deron Williams do most of the playmaking, and looked for early offense. They were able to score at will against the Nuggets during the period, but switching to a zone didn't help them stop Denver at the other end of the floor. 
Thanks to the efforts of all of those players and Jerry Sloan's time-tested offensive strategy, the Jazz were able to put up a fight on the road. After three quarters, the Jazz were very much in the game, trailing by a score of 86-88.
In the end, however, Denver was able to overpower Utah with their arsenal of offensive weapons. First and foremost, the Jazz had no answer whatsoever for Carmelo Anthony. Anthony might not be the best pure scorer in the NBA, but he should certainly be in the yearbook picture. Anthony lit up the Jazz in a variety of ways on Saturday en route to getting 42 points on 18-25 (!) shooting from the field. He scored from mid-range. He posted his man up and took him to the hole. He hit threes. He used his spin move. When the Jazz switched into a zone, he moved without the ball and found the seam in the defense. He did just about everything but miss. An absolutely mesmerizing performance from 'Melo. 
And it wasn't just 'Melo killing the Jazz. Chauncey Billups finished with 19 points and a team-high eight assists. Nene torched Utah inside to the tune of 19 points on 10 field goal attempts. Ty Lawson had 11 points and six assists of the bench, as well as a complete lack of rookie jitters. Arron Affalo stretched the floor effectively and hit five of his seven field-goal attempts. 
In the fourth quarter, J.R. Smith ended up being a key factor. There is perhaps no other player who personifies the difference between the Jazz and the Nuggets as poignantly as Smith does. Smith is a gifted athlete, but his game revolves around taking quick-trigger threes with no hesitation whatsoever. He has adorned his neck with tattoos and occasionally likes to celebrate big threes by making finger circles around his nipples and dancing like a chicken. To put it simply, he is not the epitome of a Jerry Sloan player. 
Smith had a rough start to the game, and made only one field goal in the first three quarters. True to form, Smith did not let that deter him. In the fourth quarter, Smith went off for 18 points, including a run of 11 straight points near the beginning of the quarter to give the Nuggets a commanding lead. He got the smallest possible window of daylight from the perimeter, and drained three straight quick-trigger threes. When the defense closed out on him, he went to the hole and made a lefty layup. If there's a game that better describes who J.R. Smith is as a player, I've yet to see it. For better or for worse, the man always thinks he's going to make the next shot. 
Utah should be pleased with how hard they competed with the Nuggets for the first three quarters and how well they ran their offense. However, they're going to have to find some way to slow down Denver's offense if they want to have any hope of winning this series.