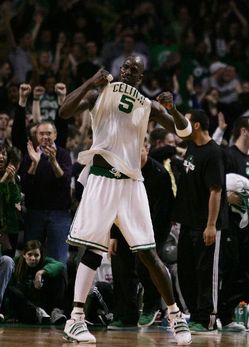 It's hard to argue with this series having the most star power. Rajon Rondo. Ray Allen. Paul Pierce. Kevin Garnett. Jermaine O'Neal. Dwyane Wade. It's chock full of bonafide superstars. But I wouldn't expect a high flying series of highlight reels and spectacular shots.
We're talking about the third best team in defensive efficiency (points per 100 possessions), versus the fifth. The surprise? It's Miami with the better statistical defense. This is going to be an absolute slugfest the likes of which we haven't seen since the late '90's. You're going to see a lot of pick and rolls devolve into contested pick and pop shots, lots of rolling on the floor, and probably some injuries.
You've got Paul Pierce, Kevin Garnett, Jermaine O'Neal and Dwyane Wade who have all suffered through multiple injuries this season. With as physical as this series is likely to be, you can bet someone is going to get knicked up.
The Heat? 12-1 in their last 13. Outscoring opponents by 9.2 points. Everything's been working for them, and against the Celtics, Wade has been unstoppable. 33.7 points, 8.7, 5.0 rebounds. That's the Wade that's been in fine form as the season has wound down, waiting until it was vital to really step up.
We've told you time and time again about the Celtics' struggles. But they're still crafty, still tough, and still have guys that will defend like the Samurai. They're proven leaders that have been telling everyone not to worry, that they'll turn it on. Well, it's time to flip that switch. There's no more games to drift through.
Important things to watch today:
Jermaine O'Neal has length to combat Kendrick Perkins and the meat in the middle not to have his legs taken out like Perkins has done to Dwight Howard. O'Neal has to neutralize Perkins' rebounding and put back potential, while also being a matchup advantage.
Udonis Haslem shoots 45% from 16-23 feet. The pick and pop from the power forwards at that range will be a huge factor. The way these teams play defense, those are the only shots you can depend on to be there. Kevin Garnett shoots 46% from that same range this year. 
The Celtics will run their usual pick and roll defense on Wade, showing with the big, then letting their deep defender rotate. The problem lies with Wade's ability to drive and dish to the man of the rotator. Spacing is going to be absolutely vital in this regard for the C's.
The Celtics' bench has to step up. If Marquis Daniels can get get some points, if Glen Davis can create some rebounds and hit a few of those jumpers he made last year, if Tony Allen can continue his surprising play, that might be enough to win in a series with scoring that should be as low as can be.
You have to wonder if the Celtics will have Rondo guarding Wade while Allen takes Mario Chalmers or Carlos Arroyo. Asking Allen to guard Wade is too tough a task and would require way too much help defense. The Heat offense is bad, but they can still hit open shots. Sometimes.
And of course, health. We'll have an update on that, including some news on Rondo, within the hour.