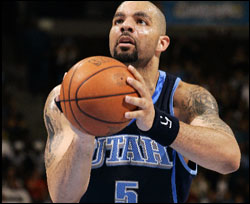 You may want to take a couple aspirin just to watch these games. Maybe even that Vicodin you have stashed away in the medicine cabinet. (Oh, admit it, you refilled the prescription on that just to keep around in case, right?)
The Utah Jazz vs. the Denver Nuggets is the series where the "last man standing" can be taken literally — the whole thing may be decided at the four spot, where the injured knee of Kenyon Martin will square off against the torn oblique muscle of Carlos Boozer. Both men are hurting. Both men are going to go come Saturday.
May the man with the highest pain tolerance win.
Martin missed 18 games with patellar tendonitis, a problem he tried to solve with platelet rich plasma therapy (where healthy blood and platelets are injected into the sore area to speed healing). He returned for three regular season games at the end where he averaged 22 minutes per contest and coach Adrian Dantley said he asked out of the second half of the last game because his knee hurt.
Boozer missed the last couple of games with a slight tear in his oblique muscle (along his rib cage). It's still painful, but Boozer said he is going to go come Saturday.
Both men are key to their teams. Boozer is the second offensive option for the Jazz, a key part of their pick-and-roll offense and the inside to Deron Williams outside. They need him to score points, they need him on the glass. Martin is the defensive anchor of the Nuggets, the guy they count on to lock down the other team's inside threat — like Boozer — and to protect the paint. He is the enforcer.
In an evenly matched series between rivals, whichever one of the walking-wounded power forwards can have the biggest impact will give his team a huge lift. Possibly a lift into the next round.